A Perfect Day in Dubrovnik
June 11th, 2012 | Posted by Shannon
OK, except for the pizza I ate for dinner.  But the rest was perfect.
I got out early with the intent of seeing some museums and stuff.  But before I get into that, let me do a little photo that shows a bit of the "Venice-ness" of Dubrovnik – in the tourist sense.
You know how if you are on the main route from Piazza San Marco to Rialto, and it is insane but then you step off into some calle or campo just off of it there are just a couple of locals there?  Same here, but there are two reasons – stairs, and a lot of the people go back to their cruise ship and leave the night to the locals.
Check it out.
Tourist Street #1 – the Stradun: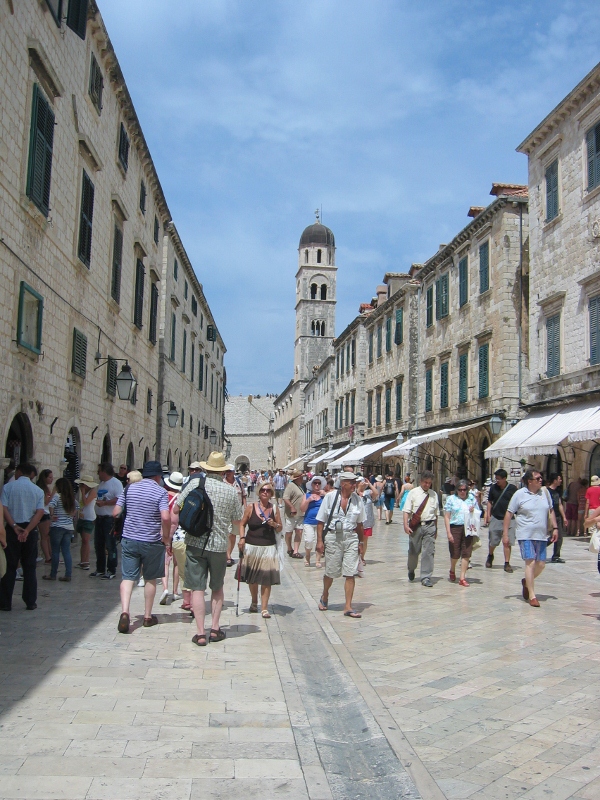 Tourist street #2 – the street that runs parallel to the Stradun: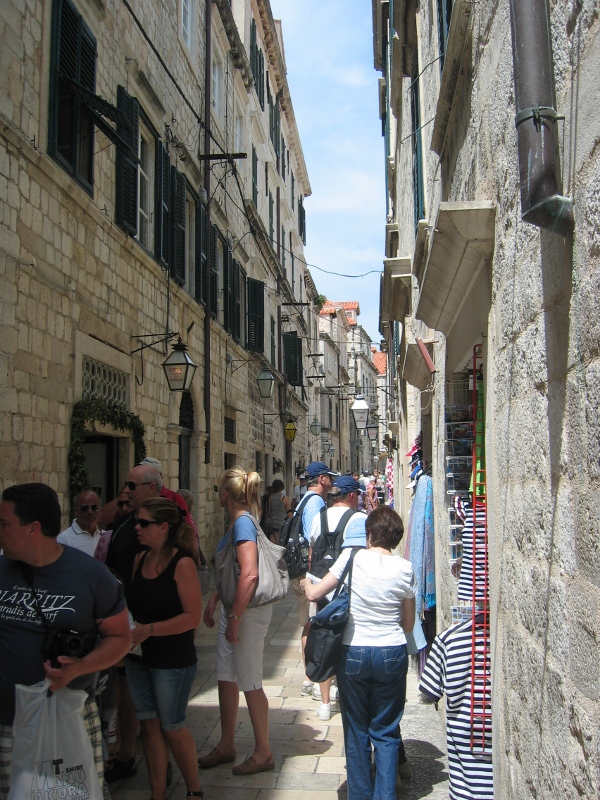 This woman appears to be pointing the "way out" for me and you – to the steps they, and most people, will never go up: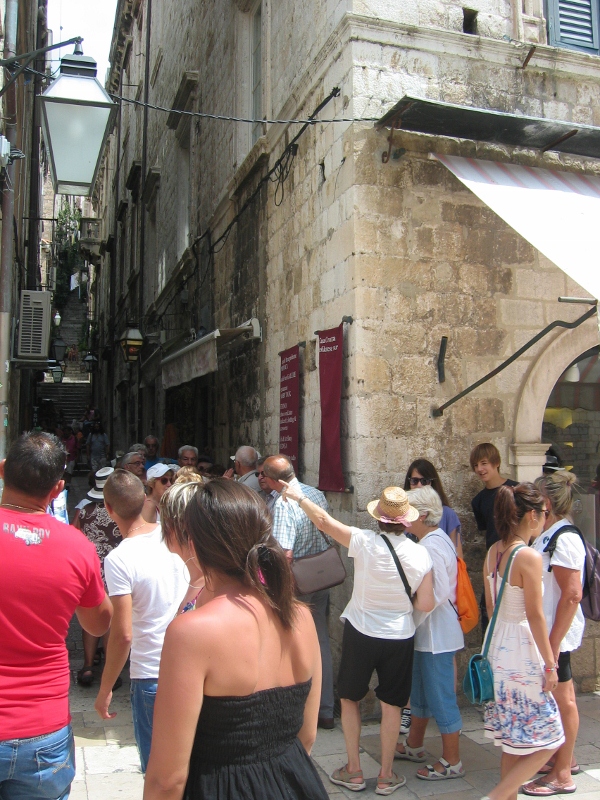 The "way out" of the tourist throng: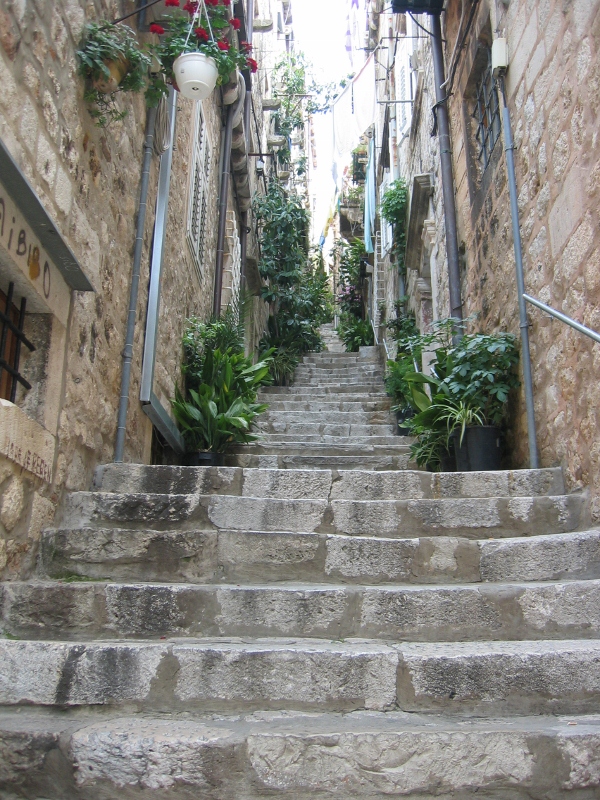 Not to mention the obvious butt and thigh tightening benefits of climbing this baby on a regular basis.  This is (or was – I am moving today) my street, and I am at the top: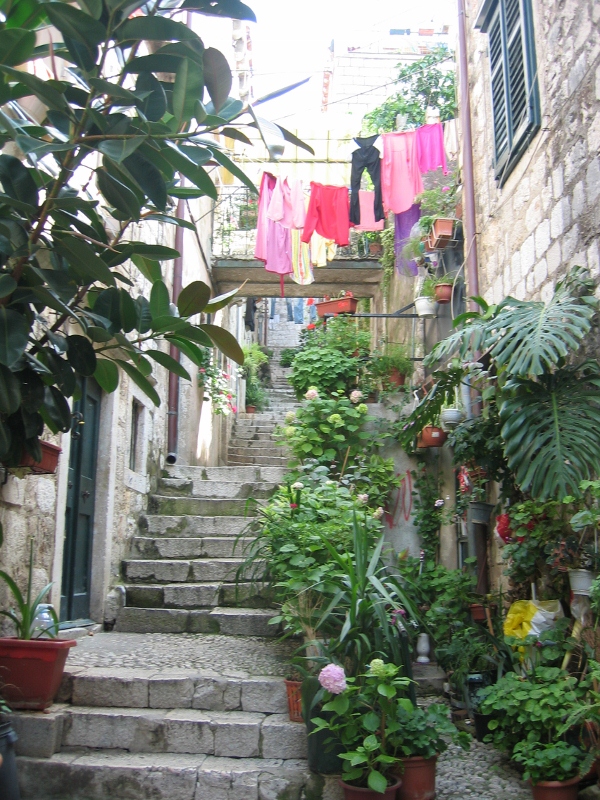 Don't you love the urban garden on the right? That apartment also has some interesting looking fermentation experiments going on in jars on the windowsill.  I do hear tourists walk by occasionally, and they always sound like they are about to keel over or even stop breathing from overexertion.  They are probably looking for the Buza Bar, which is close to the top of the stairs.  (The wrong Buza Bar.  More on that later.)
So.  Yesterday it was, once again, very hot so I did not have anything on to cover my shoulders, hence, I did not enter any churches, though I did want to.  However, THIS woman entered a church, on a Sunday, looking like this: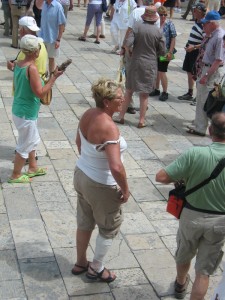 She was one of many entering churches dressed inappropriately, despite signs everywhere forbidding this nonsense.  Have some RESPECT.  Here's where many of these people appear to come from: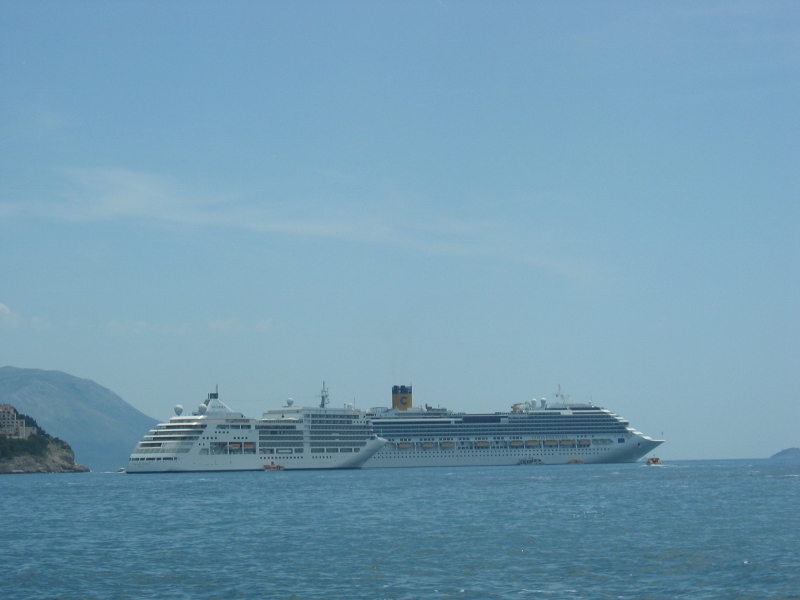 The bigger boat was so huge that it dwarfs the other one, but it left later in the day, and then the little one looked huge.  So that big one is a monster.  All day orange boats took people back and forth from the docks in Dubrovnik to the ships.  You know what?  I have friends and family that cruise and you know I love you all.  But these ships?  I am going to mimic those French kids from the other day in Jelsa.  I DON'T LIKE IT.  I DON'T LIKE IT.  I don't like it in Venice, and I don't like it here. I guess I don't like it anywhere, even places I haven't been to yet.
Anyhow.  Enough pictures for five seconds.  I checked out the Rectors Palace, where they have some art, some jail cells, some trunks with a lot of locks, and rooms with antique furniture, plus an exhibition on the patron saint of Dubrovnik, St. Blaise, who among other things managed to find Jesus's diaper.  Then, because I had to buy a ticket for 70 kuna that included 3 musems when I only wanted to go to one, I checked out the Maritime museum and the folk museum.  Both good, not great museums and both almost completely empty which was pretty awesome.  I guess that making people pay for three museums is not really helping attendance any.  After that, I had a fun and interesting lunch of sushi, oysters tempura, and tuna tartare with capers.  The tartare was really salty! But I ate it anyway. The oysters were awesome and I may have to back for some more of those.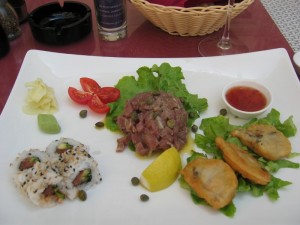 It just so happened that after lunch I knew I was close to what I thought might be the real Buza Bar.  This is the second bar I went to before, but since it is called something completely different (Bar "Bard") I was unsure and I didn't stay.  After five seconds of googling I found this blog which helped me in my quest.  OK, now I know what all the fuss is about.  Exhibit A: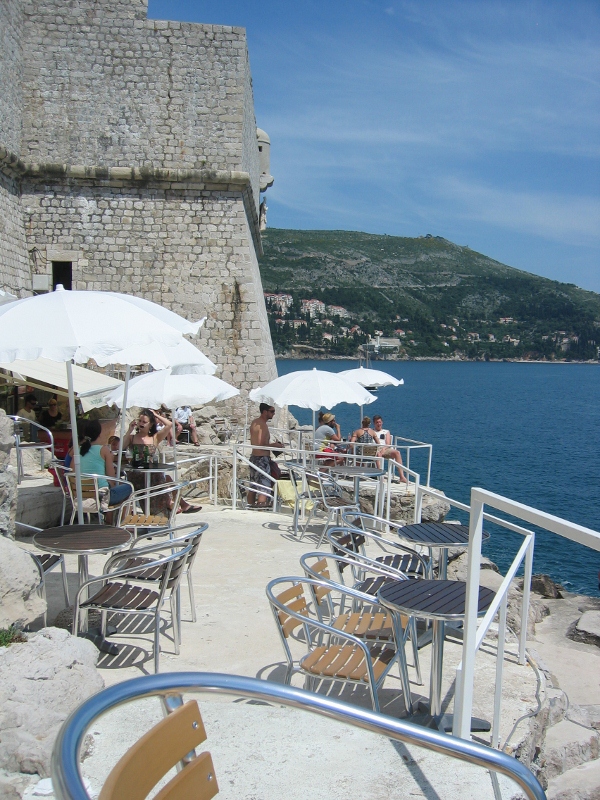 Yes, this is what I was looking for.  Those are the city walls, that is the ocean, there is plenty of space to sit and relax in the sun.  Exhibit B: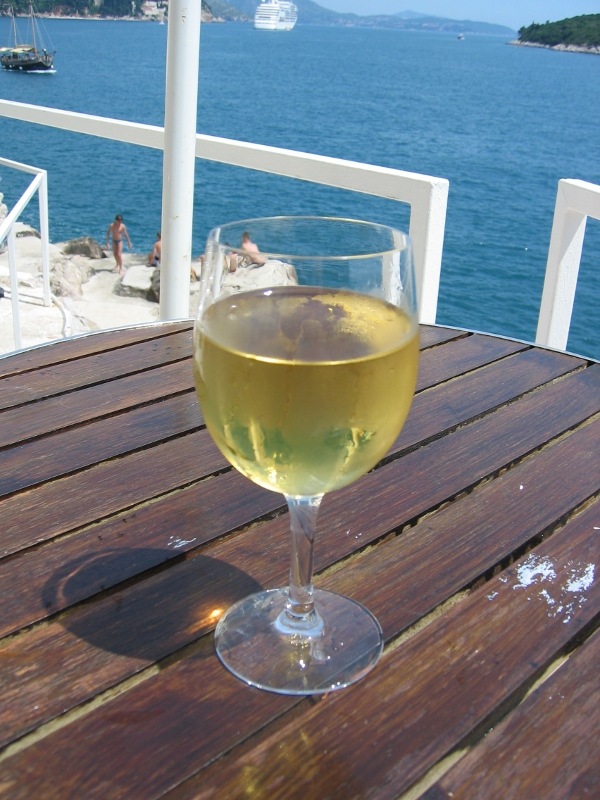 A real wine glass! And it was 10 kuna less that the other Buza!
These two boats looked to be on a collusion course, but I think they were just messing with us tourists watching.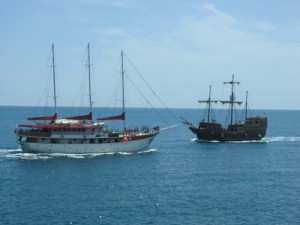 Pretty cool to just hang out there on a little perch that seemed made just for me, and check out all the action around.  I am so glad I found it, because even though I really like Dubrovnik, I would have been seriously bummed if I had only found the Other Buza.  Anyway.
The European Football Cup games are going on, so at 6 PM I went down to an Irish pub to watch the Spain/Italy match.  Ya'all know I love Spain and I love Italy, but in this regard I am firmly in the Spain camp; for one thing, they are a great team and for another, the Italian team are always falling down and carrying on like they have a severed artery or something.  Plus, sometimes they don't play fair.  Fighting words, I know.  Anyway Spain is my team regardless of who they play.  The pub was not too crowded at the beginning but people started to pack the place by the time I left, due to the next match being Croatia and Ireland.  It was fun watching the Spain/Italy match (they tied) but what was REALLY fun was watching all the Croatians, and a few Irish people, during the Croatia/Ireland match.  I walked around for most of it, because many bars, cafes, and restaurants had put TVs outside, so that people could watch.  So I stopped at various places and watched too, only sitting down at a cafe for part of the second half.
I loved how people were hanging out on the steps watching the game on the narrow street: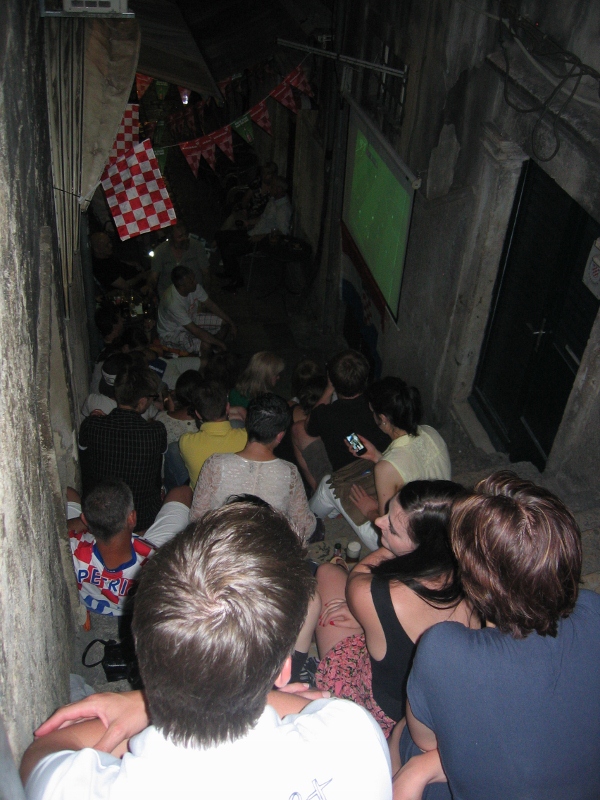 And I loved how they were all decked out in those crazy picnic tablecloth outfits: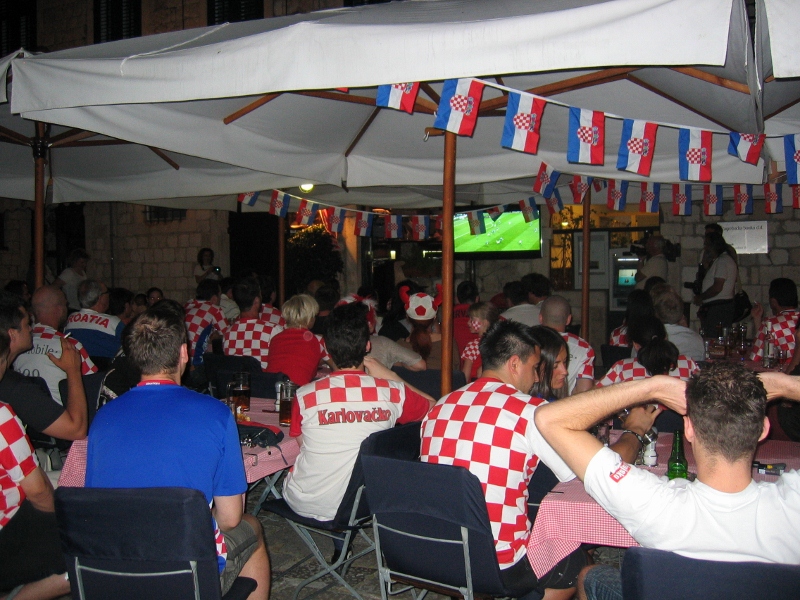 It was a lovely warm night.  Many of the tourists are gone, the ones are still around have dinner and drink and listen to music and walk up and down the Stradun with ice cream cones.  At night, Dubrovnik GLOWS.  It is so pretty.  It is a totally different place than during the day, and you see so much more, because there are no people there to get in the way.  And Croatia won, which was pretty awesome, because the locals were all really excited.  The town had, for the most part, got rid of all the visitors and was filled with happy local people.  I am glad I got to be a part of that.
I know I am telling most of this tale with photos instead of words, but I guess Dubrovnik didn't get me all poetic like Hvar did.  It would, I think, at another time, another moment in my, and its, history.  I've got a couple more days…. maybe it will still happen, right now.  In the meantime, I am having a blast.