Out of the Frying Pan and into the Fire
June 10th, 2012 | Posted by Shannon
It was with great reluctance that I left Hvar Town.   My last day there, the on-off bus was still broken down (and they were not fibbing, I saw the bus in a mechanics yard later that day) so I took the public bus to the town of Jelsa.  Not a lot going on there – a very pretty little town, and I am sure there was a Hula Hula bar somewhere, but I didn't see it.  I walked around, then had lunch – really good, grilled calamari on a bed of potatoes and swiss chard, which is a common side dish around here.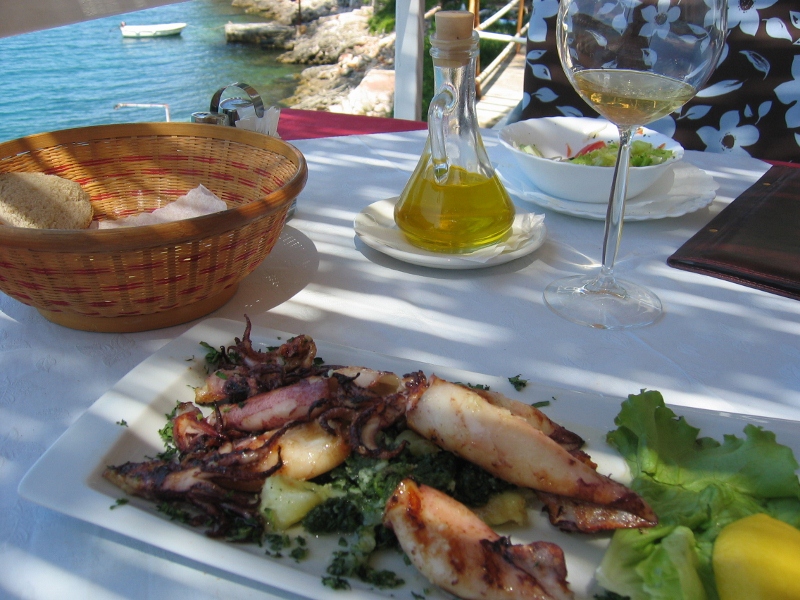 The owner of the place took a shine to me because when I asked for white wine he told me he made his own and won a medal (he showed me pictures of him winning and also, the medal) I said of course I have to try it!  Mostly we spoke in sign language.  Then I complimented him on his great white wine and ordered a second glass, just to add emphasis.  He was so sweet and brought me a dessert on the house.  In return I helped him deal with some customers.  There were two French youngsters there, and they got upset because of the cover charge on their bill.  This is normal here, and this guy's cover charge was five kuna – basically, they were complaining about 65 euro-cents each.  The owner was trying to tell them it was normal and they just kept repeating over and over WE DON'T LIKE IT, WE DON'T LIKE IT. (In English, not French.)  So I helped the poor guy out and told them it is normal to have a cover charge, in Croatia, in Italy etc.  But they told me WE DON'T LIKE IT.  WE DON'T LIKE IT.  Yeah, I said, I get that you don't like it, but IT IS NORMAL. IT IS NORMAL.  Then I pointed to the five kuna charge on the bill and said IS THIS WHAT YOU ARE TALKING ABOUT? IT IS. FIVE. KUNA. AND IT. IS NORMAL. But they continued to say they did not like it.
After all that exchange over 1 euro and 30 cents, the owner told them they didn't have to pay it.  He was so upset they were upset.  I just told him they were young and didn't know any better.  Later I saw them eating ice cream, on my way back to the bus.
The next day I headed to Dubrovnik.  One thing about traveling here, is it takes a long time to get from place to place.  I had to take a ferry to Split, then a 4 1/2 hour bus ride.  Part of this is my bad planning.  Really, I should have stayed more in one spot (but then maybe I would have not been to Hvar.)  And coming to Dubrovnik – well, I had pondered with saving it for another trip.  But, and this is going to sound insane, I wanted to come here to go to the Buza Bar.  Mai Tai Tom, who's writing I referred to over and over when planning this trip, loved the Buza Bar, and many many other people loved the Buza Bar.  It is a bar perched on the outside of the city walls, overlooking the sea.
More on that later.  I got off the bus and Stijepo, who I am renting a little apartment from, carried my stuff – and it is HEAVY – through the city walls, then on a slow tour of what to see while I am here, and then up many, many, MANY steps to the apartment.  I have to move to another one of his apartments tomorrow for my remaining two days, and he will come and move it all AGAIN.  I am so grateful – I would not have been able to do it, I don't think, by myself.
So then I walked around a little.  And pretty quickly, ended up at the Buza Bar.  Only, I was kind of, well, extremely disappointed.  THIS is the Buza Bar?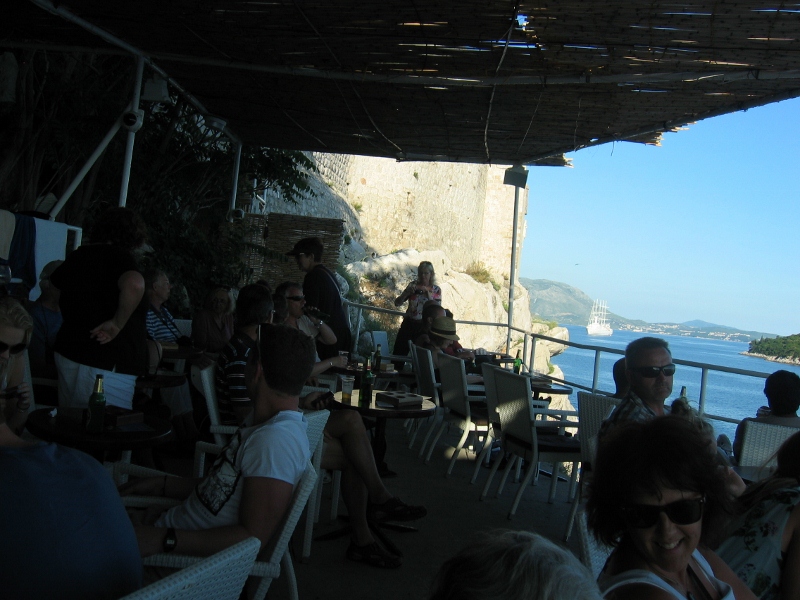 I paid 38 kuna for a really bad glass of red wine, served in plastic, surrounded by cruise ship people from England or Australia or something, complaining about the plastic glass (I was too, she says, blushing) and the lack of public toilets in Dubrovnik.  Now, I can see how someone who maybe just got to Croatia might think this place is pretty cool.  But I just spent time in HVAR where the views kick the ass of the one here.  Seriously.
I understand there are two Buzas, and the other one is a little more striking, as in there are no railings.  I tried to find the other one, but I only found a bar not called Buza.  I did go back to this Buza and had white wine, and it was a little better and I tried to tune out all the people and it was better that time.  But, I have discovered a way better place and I discovered it on my first night after dinner.
I had seen a sign earlier for a place called D'Vino Wine Bar and, not seeing too many "wine bars" in Croatia to date I decided to check it out, sooner rather than later.  This is kind of embarrassing, but this place is so awesome that I have seen more of the inside of it then the inside of anything else in Dubrovnik.  Or, to be honest, Dubrovnik.  For one thing, it is very hot and for another, it is very crowded and finally, it is the kind of place where all of a sudden you have been there for four hours and you are like "huh?  What just happened?"  They have books to read about Croatian wine, very good books; they have KILLER music playing, and they have great wines by the glass.  Plus the owner, Sacha, and his staff are Way Cool.
I did get out and walk around a bit, mostly on Friday.  I learned a trick to get away from the tourists – simply climb up two flights of the giant steps they have everywhere here.  One flight won't do it.  Has to be two.  Once you have done that, voila, no more tourists!  Well, only a few, maybe ten or something.  I walked around up there and ended up at the Buza Gate, one of three entrances into the walled city.  I was sort of just standing there plotting my next move when this restaurant guy asked me if I wanted to eat at his restaurant right there.  I said "hvala – no."  (No thank you.) This is the rest of the conversation, which could be funny or freaky, depending on your mood.
Him: Oh, you speak Croatian?
Me: No, only two or three words.
Him: Where are you from?
Me: California.
Him: There are many Croatians in California.  You speak Croatian?
Me: No, just two or three words.
Him: You are here alone?  You went to Hvar?  (I was wearing a t-shirt that I bought in Hvar, not revealing at all, just a basic ladies T with a high neck.)  I like your shirt.  I like your BOOBS.
Me: (Thinking: Dude.  I can't believe you just said that.) Um, OK thank you.
Him: Are they real?  I mean, I really love them.
Me: (Thinking: DUDE. I CAN'T BELIEVE YOU JUST SAID THAT.) Um, yeah.
The conversation went on with him trying to get me to go have a drink, me saying no a few times, and him bringing up my boobs a few more times.  Maybe this method works on some people, but I can't even begin to imagine the scintillating conversation we would have had if I went to have a coffee with him.
Anyway.  Dubrovnik is beautiful, and today I am actually going to go out to See Some Stuff, plus try to find the other Buza.  More later, including pictures.