Sunday, May 27th, 2012
Rovinj, how do I love thee?  Let me count the ways.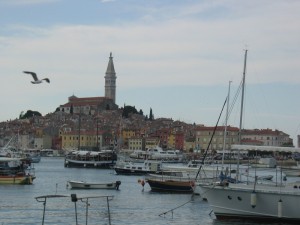 I landed here – well arrived by bus from Italy, actually – last Monday, after almost a month in Venice.  It is my first time in Croatia, and what a place to start.  I am head over heals in love with this town.
Rovinj was a Venetian outpost back in the days of the Republic, and Venice is everywhere.  In the architecture, in the language, in the food.  The locals even drink Spritz Aperols at cocktail hour. But this is Croatia, and there are a lot of differences.  For one thing, I can actually understand the Italian here.  I understand and am understood.  I think it is because they speak a lot slower, and also because they aren't speaking dialect.  For another, the locals, all of whom seem to be selling or serving something to tourists, haven't quite got to that point where they are totally over it and/or aggravated.  However, I understand that after August, the locals won't be feeling so relaxed.  They'll be too exhausted.
I am lucky to have arrived before the season starts.  There are tourists here, but not too many.  I am staying in an apartment looking out over the rooftops (which remind me of Venice) and onto the campanile at the church of St. Euphemia (which also reminds me of Venice.)  My landlady and her family live in the house in the back.  Her name is Izadora and she left me cake when I first got here and one night brought me part of a loaf of fresh baked bread, still hot from the oven, which I slathered with butter and ate in one sitting.  She has a 12 year old, a 3 year old, and a 3 month old, her husband works in a restaurant and they are renovating the house they live in, which belonged to the husband's grandmother.  Someone else lives on the other side, a man who whenever he clears his throat (which is often) it sounds like he is laughing at something really hilarious.  And there are swallows.  Another thing that reminds me of Venice.  The sky is full of swallows.
Rovinj is impossibly, insanely picturesque. I have been to many beautiful places, but Rovinj lands firmly in my top five, and that is saying a lot.  Around every corner there is another stunning view or charming courtyard or atmospheric street.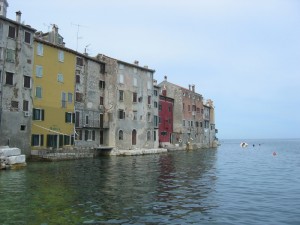 Also, Rovinj is swimming in cafes, bars and restaurants, many perched on rocks above the sea, some in cool stone cul de sacs and still others overlooking the harbor.  Given the opportunity to be totally lazy, and to not really do anything besides sitting in various cafes staring out at the sea and checking out the local color, I will usually take it.  This can be dangerous in a place as beautiful as Rovinj.  In almost a week here, I never went to Pula to see the Roman Amphitheatre, never went to the hill towns of Istria to eat pasta with truffles, never went anywhere.  Except to various bars and cafes, where the price of a glass of white wine varies wildly.
First off, you've got to get use to dealing with the Croatian kuna, which takes some time to get used to.  10 kuna is about $1.65 at the moment.  There is a bar by my apartment, looking over the harbor, that only charges 7 kuna for a glass of wine! The name of the bar is Buzz, needless to say I have been back there a few times.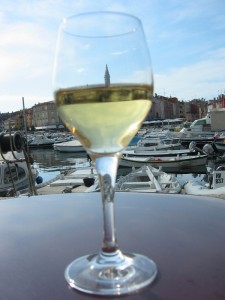 But this place, on the rocks and with pink umbrellas, charged an insane SEVENTY FIVE kuna for a spritz.  It was kind of neat there, but at a 10-1 ratio in terms of price/value, I will stick with the Buzz bar.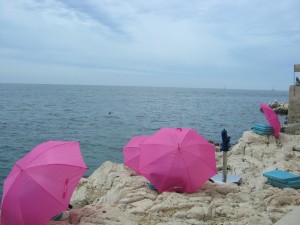 Prices can even vary wildly at the SAME bar.  One place I have been going to, right smack up against the corner of the harbor and the sea, has two servers – one who charges me 16 kuna for a huge pour, and another one that charges 23 kuna (the menu price) for a regular one.  I have a picture of my preferred server's huge pour in my camera – will post that later.  Love her.
Today is my last day here.  In an attempt to get myself off my lazy butt, I booked an all day boat trip today, going around the islands and eating a "fish picnic."  More later….