A week in Ljubljana
July 31st, 2012 | Posted by Shannon
Slovenia is not on most people's travel wish list, and I arrived there a month ago with little understanding of what was in store.  I met up with my friends Deborah and Dan there, and Deborah did most of the planning.  So I showed up not really knowing what to expect.  My first stop (not theirs, they spent time in other parts of Slovenia before meeting up with me) was the capital city of Ljubljana.
Our apartment was in a huge building with wide hallways.  The hallway leading to our apartment was eclectically furnished with various statues, wine making equipment, old newspapers, dog bowls, and many other items.  Our landlady is an actress, and the apartment had a lot of cool stuff in it.  It didn't feel like a rental – it felt like staying in the San Francisco apartment of a really hip friend.  Only in Ljubljana, where the wine is way cheaper.  This statue was in our hallway: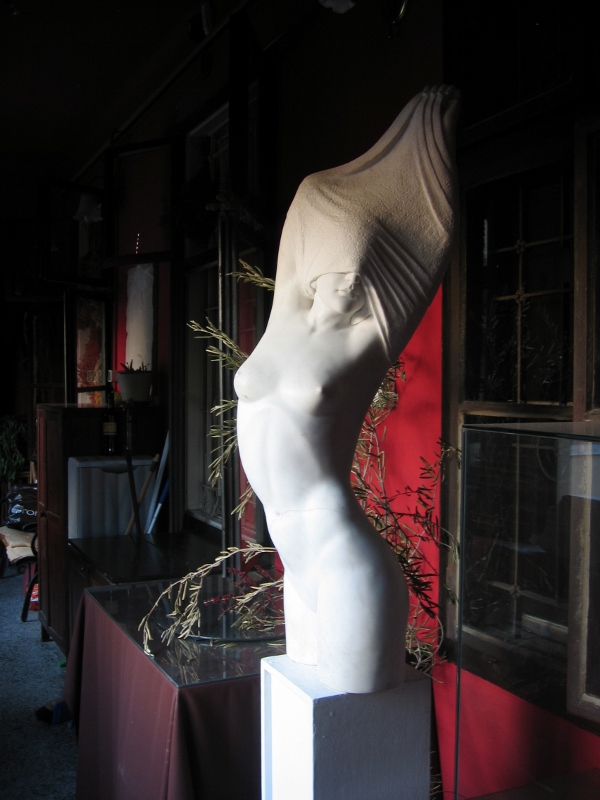 We arrived during the hottest week of the year, and this hallway was like an oven, until late in the week when two days of constant thunderstorms and rain cooled it down.
Our first night we went out and walked along the river, which is lined with cafes and bars.  Every single cafe, every single bar, was packed.  It was Saturday night and it seemed like every person in Slovenia, much less Ljubljana, was out that night.  The next day we went to an antique market and to the castle on top of the hill. When we were at the castle, we went to the restaurant up there for a drink, and saw what others were eating.  I was sure it would be expensive, but after checking out more of the castle and realizing we were starving we went back there to eat something. It was not expensive – it was, in fact, pretty cheap. We ate a local fresh cheese with chopped up fresh herbs on top, local sausages, a tasty homemade ravioli, and some crepes.  WIth wine and beer it was something like forty dollars for three of us. Our waiter was very young, and served us because the regular waiters were all finished with their shift.  He was so sweet and personable.  I will never forget him or that lunch.
That night was the Euro cup final, so it is a good thing we loaded up on food, because we were in for a night of drinking at a local pub with a lot of Spanish students and maybe five Italy fans.  We had made a reservation, which was a good thing because the place was totally packed.  It was also insanely smoky in there.  Slovenians, like Croatians, smoke like chimneys.  I am such a woos when it comes to smoke these days but I managed to make it through and Spain whooped Italy's ass which made 90% of the 200 people in the room very happy.  And our bar bill – for a lot of beers and glasses of wine over the three hours were there – was only 14 euro.  Crazy.
The rest of the week I did a bit of sightseeing with Deborah and Dan and took care of some business while they went off on their own.  One day I wandered in the afternoon by myself.  Llubljana is not a big town (at least the old part) and it is very lovely.  You do have to watch out for bikers, because they will mow you down if you are not careful.  This woman was walking peacefully with her bike, which I appreciated.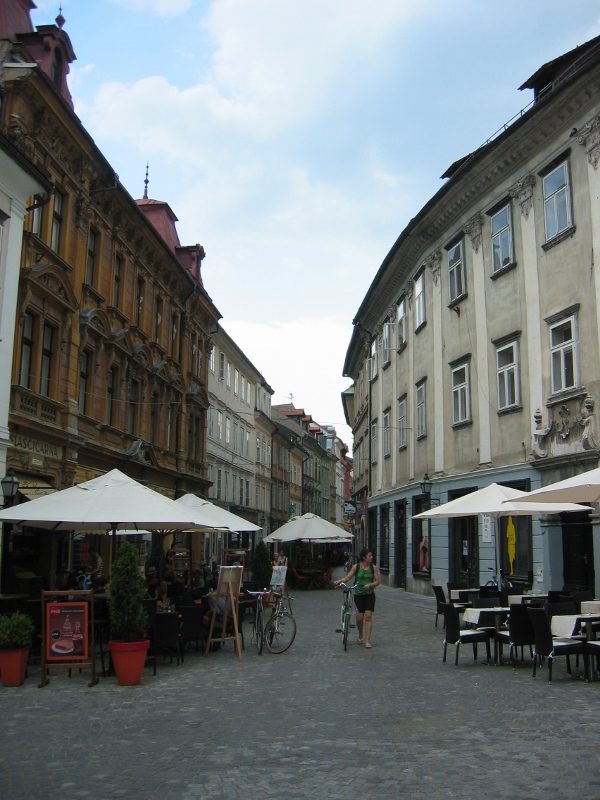 Llubjlana is full of nooks and crannies like this one just down the street from our apartment.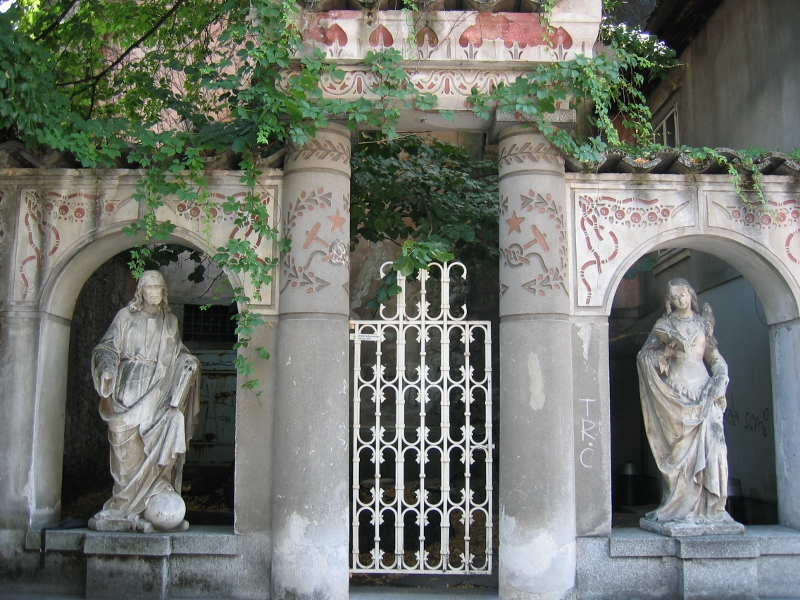 And cool cafes that look like cafes from long ago.  Or ARE cafes from long ago.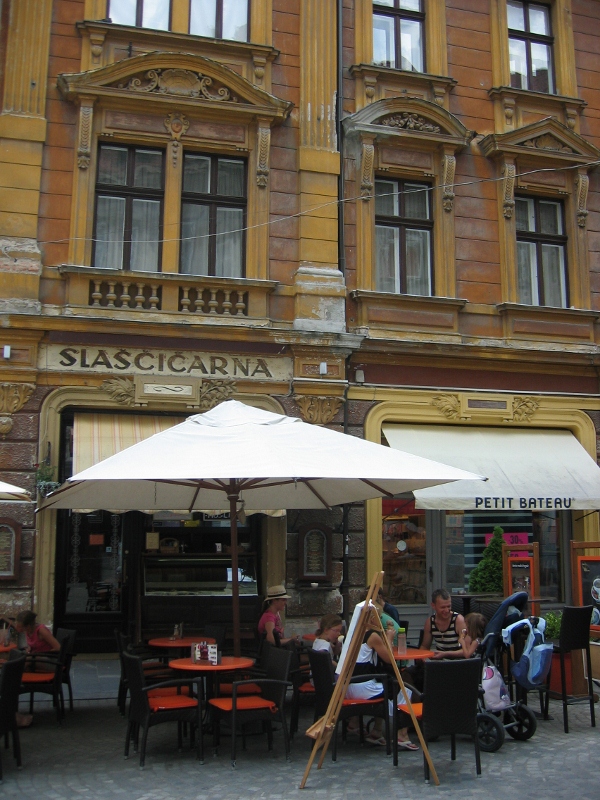 The river is a quiet and peaceful one though on our first night, we saw some tempting "booze cruise" action – a barge with a bar and a throbbing beat.  But, there isn't too far to go so I think it went back and forth a few times. That's a bar down there under those awnings!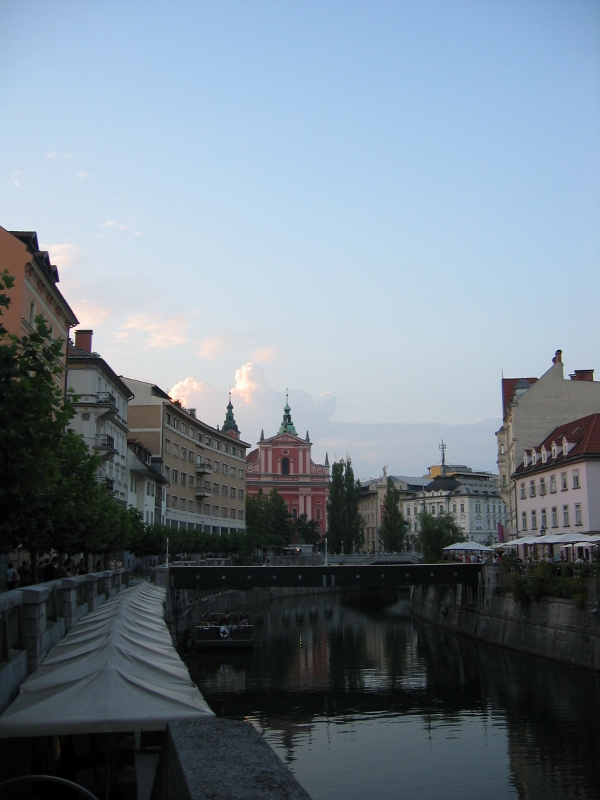 Speaking of nightlife Ljubljana was ALWAYS hopping in the evening.  We went out once on a Tuesday and it was not that easy to find am outside table to sit and drink at.  Finally, we ran into our awesome server from the pub we went to the night of the Euro Cup – she ALSO worked at a wine bar.  Our wine bar tab was far from 14 euros though, mostly because Dan kept ordering a beer for every wine I got, only the beers were way bigger, forcing me to order another wine because he had half a beer left.  But then he would order another beer.  It went on this way for some time.
A full moon, people hanging out in the moonlight: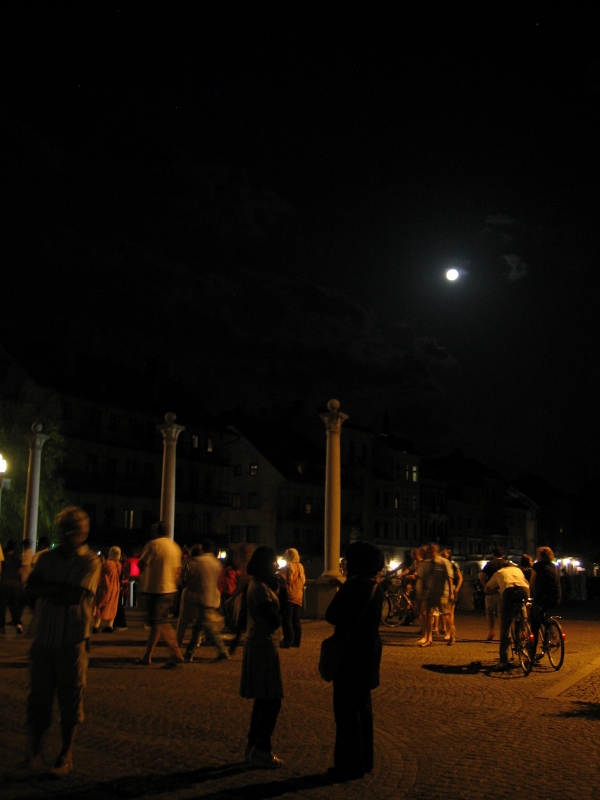 There was a lot of public drinking by youngsters at the river's edge.  We are talking whole bottles of whiskey drunk in one sitting by three teenage girls, not just a couple of beers.  A bit worrisome, to be honest, but hopefully they will all grow out of it, or move on to fine wine like I did in my later years.
In our week in Ljubljana. I also witnessed two insane, also really long, thunderstorms.  One was on a day when Deborah and Dan went out for the day and I stayed home to get some work done.  The storm raged, with thunder and lightening and heavy rain, for three straight hours.  Another day – our last – we left the apartment to go to Tivoli Park and immediately it started to rain and it continued for, you got it, three hours.  We spent some time in a cafe and then got out when the rain stopped briefly, only to be forced to a really weird bar overlooking an indoor swimming pool.  I am scared of lightening, and I was scared both days.  Yes, I am a woos.  Also, why we did not bring our umbrellas out that day is a mystery to me.  Here's the park after one of the rainstorms – it is huge and has lots of empty space.  Lovely.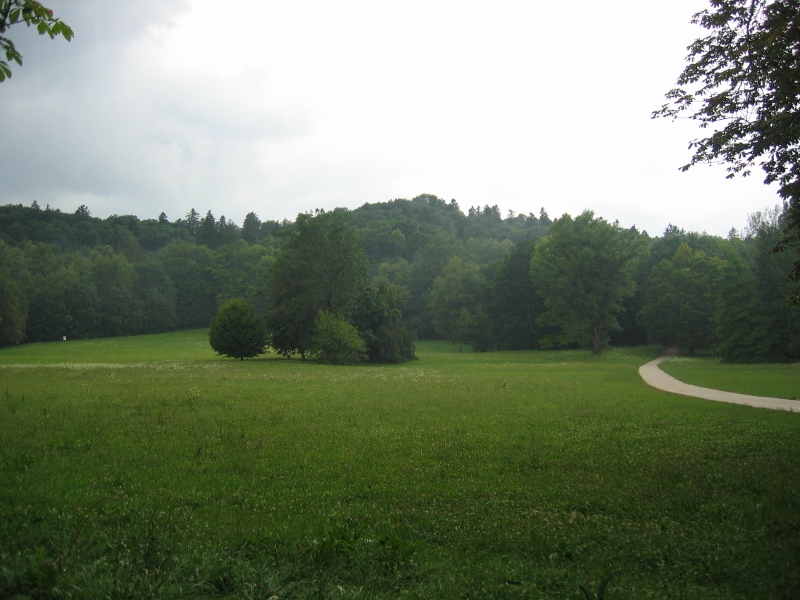 At the end of that day though, we happened upon a Serbian orthodox church, and when we went in their was a mass going on.  That was very memorable.  Young priests with incense, Byzantine looking paintings everywhere, it was pretty cool.
I loved Ljubljana and would like to go back and live there for a month sometime.  The people were so friendly, and it is a fun, clean, easy to move around in town.  After that we headed north.  I'll try to get a bit more caught up soon…