Striking Sibiu
July 31st, 2013 | Posted by Shannon
While it took a couple of days to get my love fest going with Bucharest, it was pretty immediate in Sibiu.  An absolutely stunning town, with lots of cool things going on – it was a European "Capital of Culture" in 2007.  Dan and Deborah had a little apartment, and I rented a room at the quirky Casa Baciu around the corner.  Run by really nice people and managed by a cool guy named Marius, they let me use their little kitchen to make my own coffee that I had been carrying around since ITALY, 2 months before.  I was grateful beyond belief, but when I made a cup for Marius, he said "are you trying to kill me?" and added sugar.  But he also took a cup the next day, so he must have liked it.
Before I get into some details of the town, I would like to mention something that made me want to get home right at 10 PM a couple of nights.  When I was living in Budapest for one month in 2001, there was a channel on TV that showed the Cartoon Network during the day and until 10 PM, when it would turn into Turner Movie Classics.  Whatever cartoon happened to be on would be abruptly ended, and a movie would start.  You'd never know what movie – sometimes it would be good, sometimes not so good.  Like the Russian Roulette of TCM.  Well, at the Casa Baciu I was surprised and excited that they had exactly the same situation.  Cartoon Network until 10, then some random movie.  One night I watched Risky Business, and one night the Shining.  One night the Postman Always Rings Twice came on but it was the Jessica Lange/Jack Nicholson version and that one is pretty lame.  But it was always a thrill to wait and see what was on, just like in Budapest.
Anyway.  Sibiu is so pretty, and well kept, it is like a different world from Bucharest or some of the other places we saw.  There are several pretty squares in the old town, some interlocking with each other.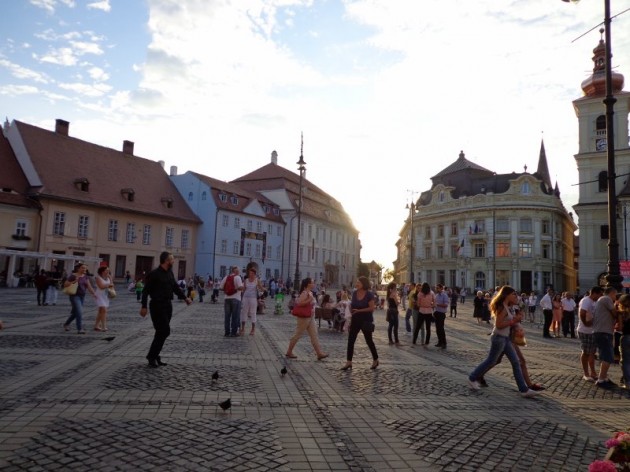 We happened to be there on the 4th of July, and the three of us cooked a 4th of July BBQ for Deborah and Dan's landlords and some other people they invited, including four of the most beautiful, sweet little boys.. and after that, there was a concert in the Piata Mare – a symphony playing music from American films.  You could pay to sit in chairs in front of the symphony, or you could sit in a cafe and spend that money on wine instead.  Which is what we did.  The symphony played music from the Godfather, James Bond movies, West Side Story… the whole square filled up with people enjoying the music and the warm summer night.  Glorious.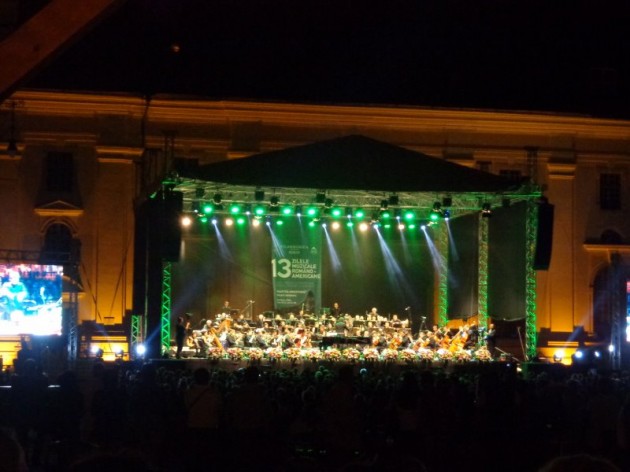 This little boy got right in my face to say hi.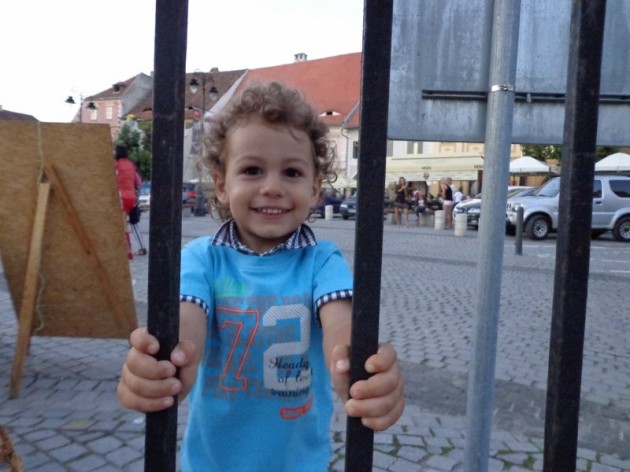 He was adorable and in general the people in Sibiu seemed like a happy bunch.  Waiters, the folks at my pension, the crowd of locals in the squares every night.  Beauty has an effect on people.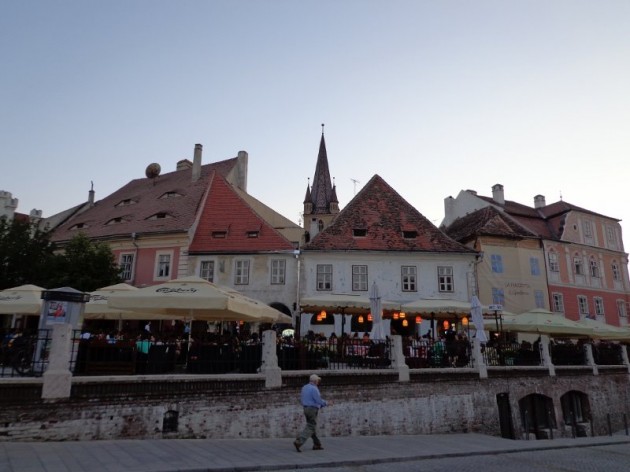 I had killer meals here that cost NOTHING.  Didn't find any wine bar though, and one day's morning quest for a smoothie led me into a health food store where I made a new friend, Delia.  It was her first day open, and it turned out my purchase of a tomato juice and breakfast bar thing was her very first sale.  I went in a couple of days later and bought a bunch of tea, spices and other things from her. She tried to give me a bunch of stuff too (I kept telling her, you can't give it away, dear.)  The store is called Das Bio and if you are ever in Sibiu and need the best organic tomato juice ever you must visit Delia at Nicolae Balcescu nr. 39.
I loved Sibiu and it is not a question of if, but when, I will get back there.