Friday, August 16th, 2013
We left Sibiu to head back to Bucharest for our flight home via the totally weird Transfagaran Highway. If some things are weird in Romania, then the Transfagaran Highway is the icing on top of the weird cake.
Yeah, it is pretty.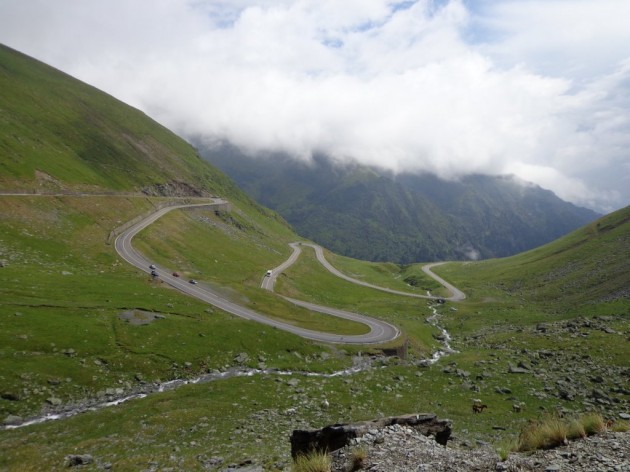 The landscape is barren and there are wild horses – well, I think they are wild – here and there.  On this July day it was hot in Sibiu.  Here, not so much.  In fact there was still snow on the ground in some places.  The road and pass are only open from late Spring until the end of summer or thereabouts.
Before we stopped anywhere, we went to our hotel to check in and eat a picnic we had brought. Our hotel was, well, a little gross/run down/precarious (seriously, no lights in the hallway when you are trying to climb the stairs?) but we were only there one night so we dealt with it.  We planned for a picnic outside but as soon as we were unwrapping the cheese I felt a raindrop.  A guy working at our hotel told us we could sit in this sort of enclosed patio room, which was very nice of him.  As soon as we went in there it started to rain like crazy.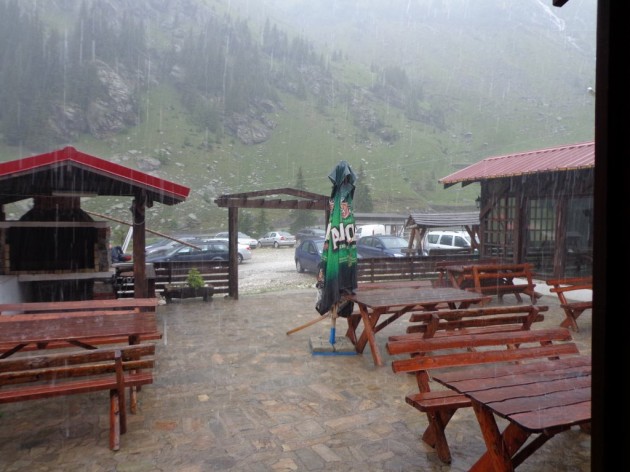 Oh, and there was lightening, and thunder.  Oh joy.  I am terrified of lightening and believe me when I tell you that lightening hit about 10 feet away from this little building.  It was loud, the earth shook.. we were on top of a mountain, after all.  The empty parking lot filled up with cars and motorcyclists needing to get out of the rain.
Eventually it stopped and we took off, and visited an area with some tourist stalls and a bar/restaurant. It was fairly bizarre there.  A heavy mist lay on everything, and it was freezing.  At one point, we saw this building – literally seconds later, it was gone.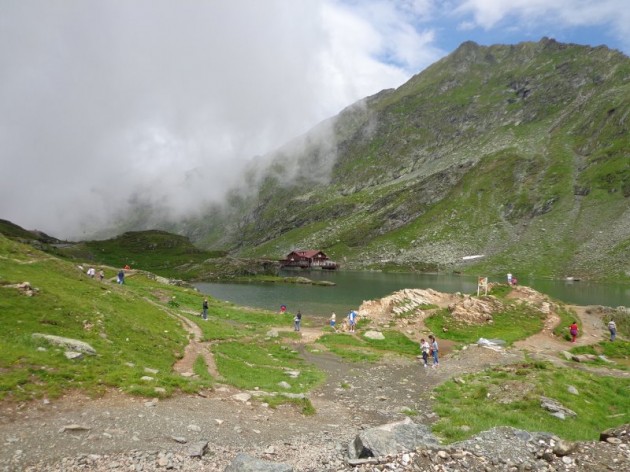 I mean GONE.  Like Avalon.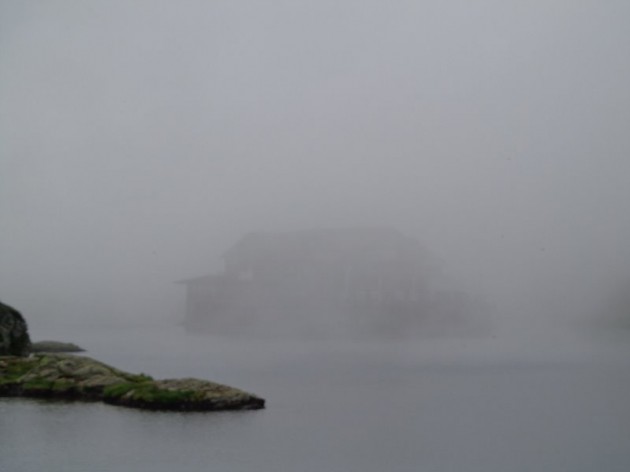 After some walking around and deciding not to sit in any smoky bars, we went on this crazy cable car that Deborah wanted to go on.  I was nervous that there would be more lightening and I have a feeling that Dan was a little nervous too.  But we did it for Deborah.  I was happy to see that it was not too far to the ground in many places.
We ended up back at the hotel, sitting on our little hotel decks (mine had holes in it, so we sat on Deborah and Dan's) and eating another picnic.  We had a nice view of the waterfall across the way, and also a sheepherder and his flock.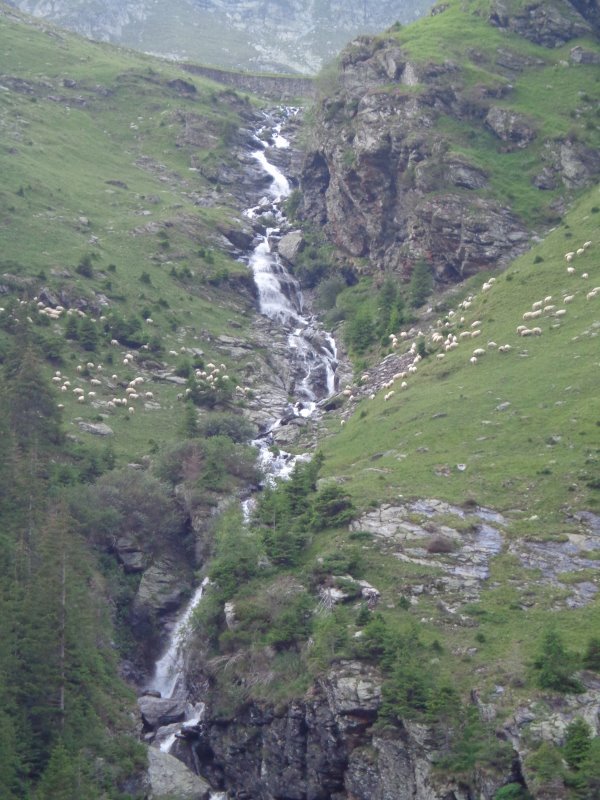 The sheep, and the sheep herder, scampered up to the TOP of that steep mountain, then came back down.  I wonder what the herder does when it is really cold up there, not just California wimp cold.
The next day we got out of there and continued down the highway for our one night staying in a place by the Bucharest airport.  As we got down the mountain we passed a horse drawn cart and Deborah said "I wonder if that's the last one of those we'll see."  I said "I seriously doubt that."  Winner? Me.  We passed a few dozen more, some pretty close to Bucharest.
Driving IN Bucharest on the ring road – mi dio.  I thought trying to cross the street in downtown Bucharest was hard.  I have never seen such insane, nutty driving.. its drive with your front bumper taken to the most extreme level possible.  Eventually we made it and our rooms were so nice and air conditioned and had a mini bar with white wine in there.  Bonus!
At dinner we toasted Deborah for planning this adventure.  What an adventure it was.  Many many times I was trying hard to figure out what the heck was going on, but Romania is one of those places that sticks.  When you get home you can't stop thinking about it. I want to go back someday.