History Tiramisu
June 3rd, 2012 | Posted by Shannon
It's a hot Sunday on Hvar Island, the first Sunday of the "season."  But I'll get to Hvar later.  First I have to tackle Trogir and Split.
Trogir is a medieval hamlet, a UNESCO site, and a quaint and pretty tourist destination.  Split is a city.  When I was researching my trip, I read so many accounts where people did not really like Split.  Seriously, I cannot figure out why.  I LOVED Split and wish I would have based there instead of sleepy little Trogir.  Not that Trogir was horrible or anything – but Split was so cool.
What did I love about Split?  Let's see… part of the city is built INSIDE a Roman palace.  And all around that Roman palace are other buildings from every possible century.  There are layers upon layers upon layers. Check out the Roman columns of the palace next to a Venetian building right next to it: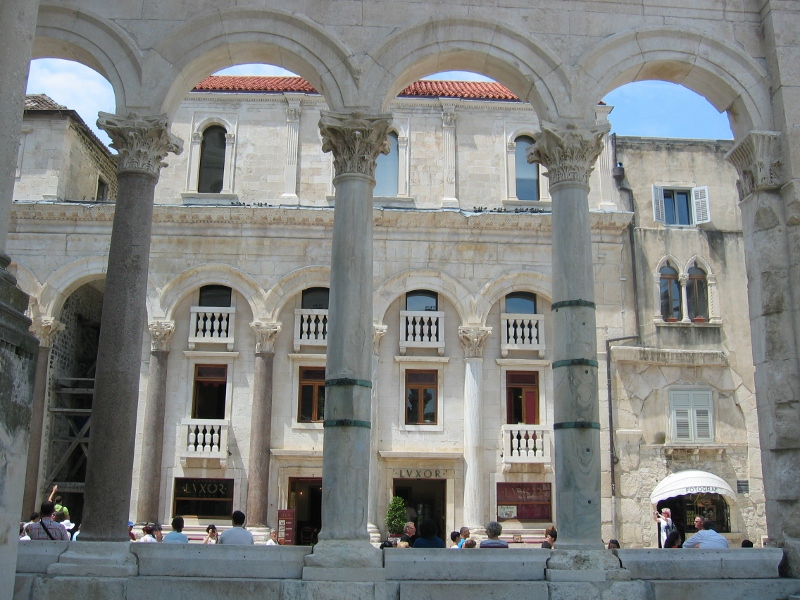 And I drank a glass of wine sitting on the steps on a red cushion.  So cool.
The Roman palace was Diocletian's retirement home, and once he was gone future generations moved in and took over what was once his spectacular seafront estate.  They lived there, ate there, raised animals and grew vegetables there, and buried their garbage there.  And people STILL live there, hanging their towels out to dry next to millenia-old Roman walls.
Next to the old palace is the city market, which I also totally loved.  It seemed to me that people came in from whatever farm (or house with a garden) and plopped down all their produce on either part of long permanent tables, or on a card table.  There was SO much produce and SO much color.  There was no rhyme or reason, just a head of lettuce here and a pile of cherries there.  One lady had her table adorned with some spring onions, potatoes, a whole chicken, and three large slabs of a bacon like meat, among other things.  One stop shopping.  The original supermarket!  I wanted to take her picture, but I did not want to be rude.  I did get some pictures though. The market is huge – this just shows a little bit of it.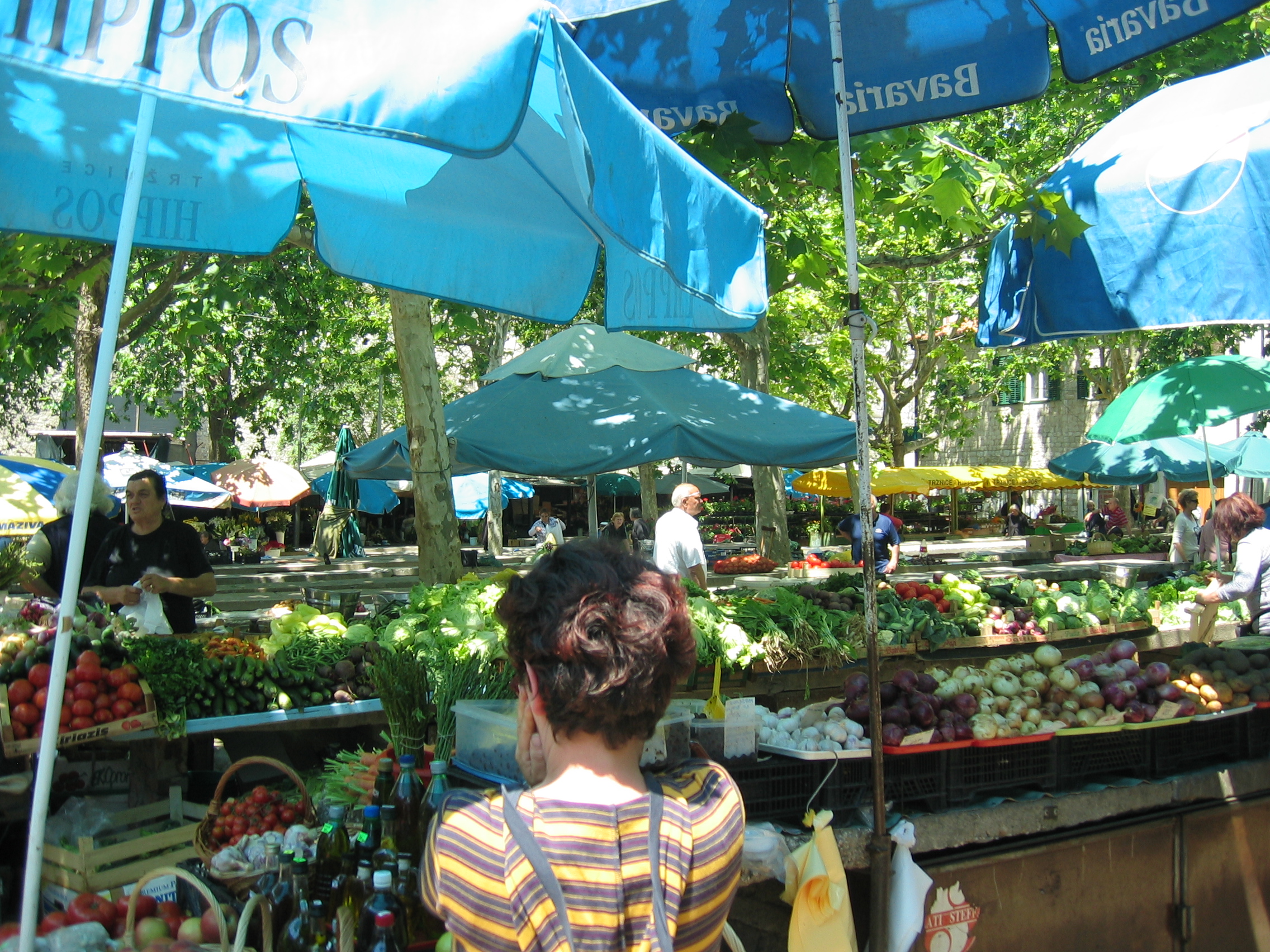 One of the card table stands – the guy standing at the back of it, sold eggs in plastic bags, without even having a table at all.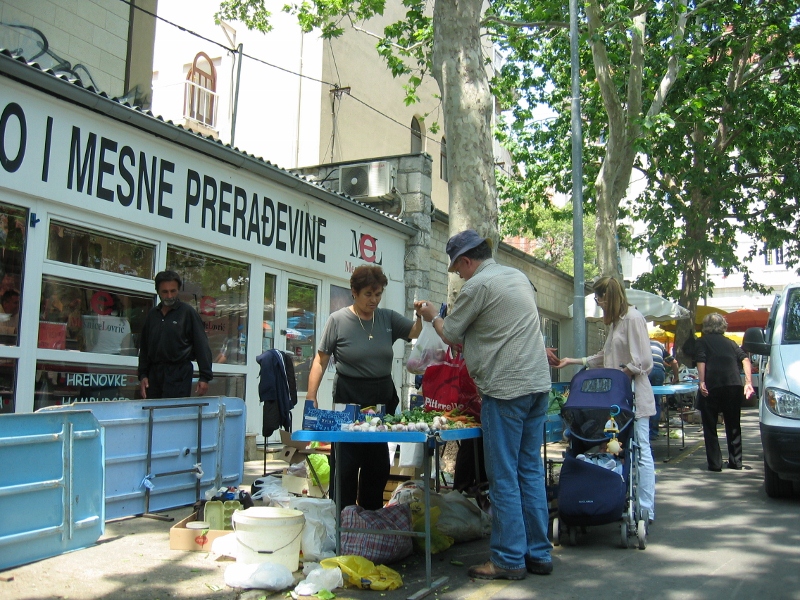 I went to Split twice, both times on the Bura Lines ferry which took one hour each way.  Both days, after walking around, I ate in a place called the "No Stress Cafe" in the main square in town.  I loved sitting there and watching the never ending stream of locals and tourists walking by.  Split is so clean.  And there are SO many bookstores.  My waiter at the No Stress Cafe was pretty awesome too.  He had an answer for everything – he called himself the "Nostradamous of Beverages" as he was able to figure out when a guy would want a big beer instead of a small one.  (Actually, based on recent observation, big beers are the norm for all guys EXCEPT Croatian.)
The No Stress Cafe, and my waiter off to the left.  Check out the awesome building it is part of.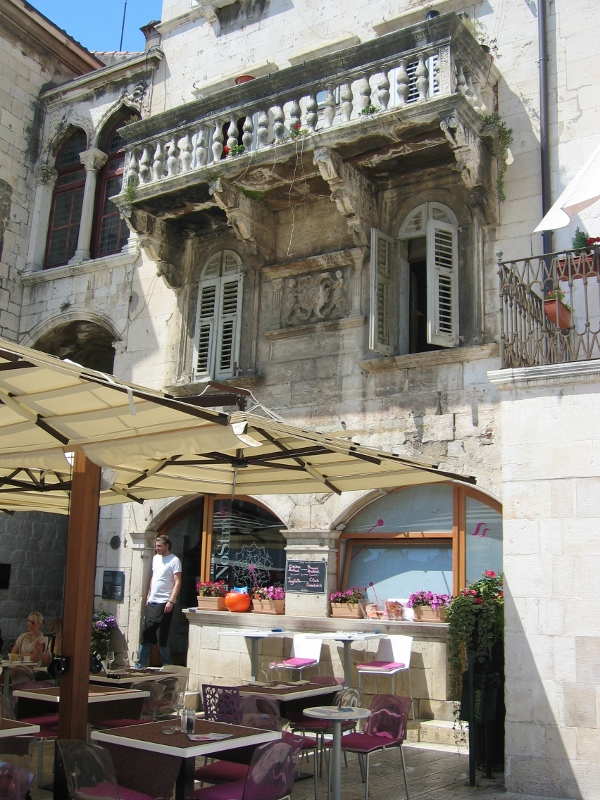 And the vibrantly colored bookstore just opposite, one of many in Split: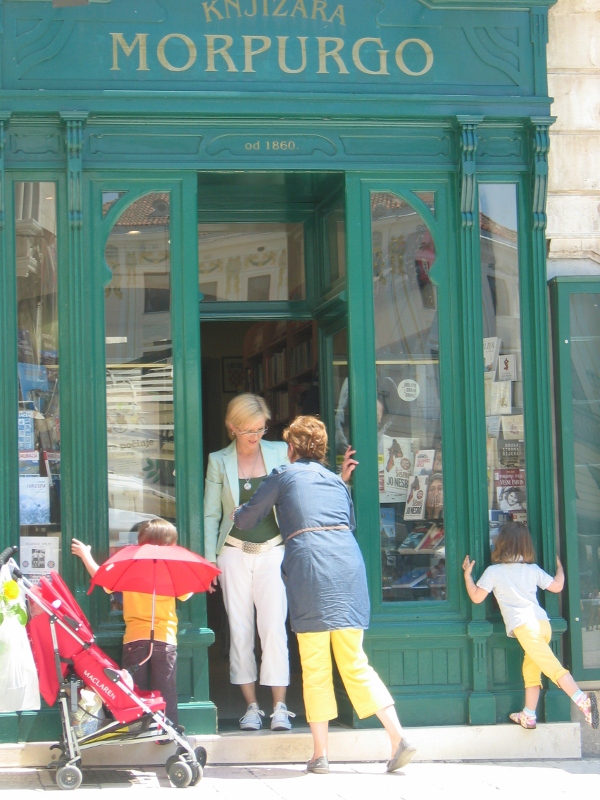 Then back to Trogir.  Sigh.  It is a really sweet town.  I stayed in a tiny apartment with a wonderful family running it, but there was no there, there for me.  Sometimes a place calls out, and sometimes it does not.  Having said that… when I was planning this trip I was thinking about taking one of the gulet cruises that runs up and down the Croatian coast.  I decided not to, but in Trogir I sure did see a lot of these boats!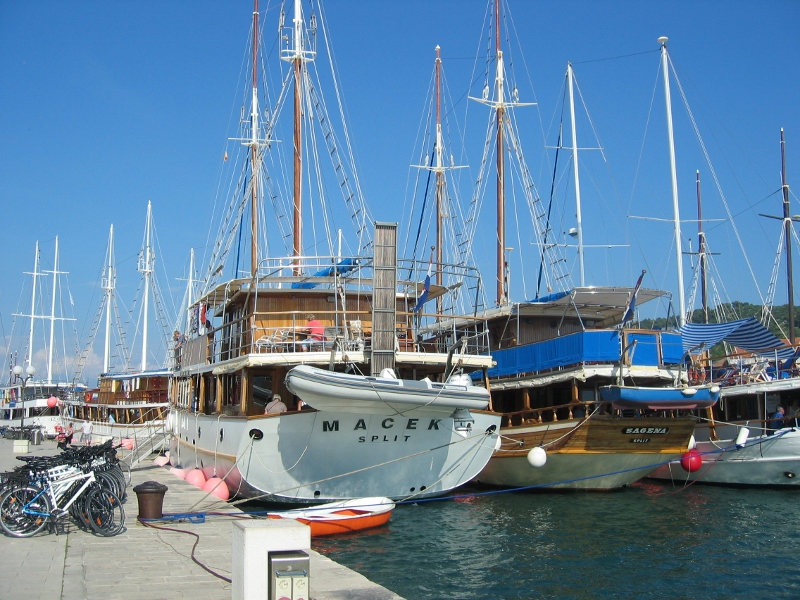 There must have been 20 of them the day before I left, just in Trogir alone.  Plus a lot of expensive yachts. Maybe next time.
After a LONG day of travel yesterday, I arrived on Hvar Island and it is another amazingly beautiful place. Stay tuned.