The Good, the Bad, and No Picnic
May 28th, 2012 | Posted by Shannon
Well, my boat trip yesterday didn't exactly turn out like I expected.
Don't ask me (Ms. "Book the show, but don't book the dinner") why I decided to buy a ticket for a 6.5 hour boat ride with a fish picnic on board.  I guess I just thought I had better do something besides work in my apartment, hang out at a perch on the sea, or sit in cafes drinking wine.  So when I walked by the girl selling the tickets for the boat, I already had in my mind that I would go the next day.  She gave me a 30 kuna discount without me even asking.  So it was only 220 kuna for the all day trip.  I knew that there was no way lunch would be too spectacular for that price.  But how bad could it be?
The answer: bad.
Let me backtrack a little, to put things into perspective.  Besides Monday night when I first got here, I ate every single meal in my apartment.  So on Saturday I decided to take myself out to a decadent lunch – something I like to do at home, too.  I went to a place called Puntalina.  My landlady had recommended it, and I had stopped in to their seaside bar one afternoon.  The guy who served me was painting a table blue, and another guy who worked there came down from time to time yelling out "Picasso! Picasso!" So I went back for lunch.
It was fantastic, this lunch.  I had a much needed green salad, delicious fresh fish with a sort of tomatoey sauce on it, and part of a bottle of Franc Arman Pinot Blanc – I bought a bottle, after asking my waiter if I could porta via the undrunk part out of there.  To which, of course, he gave me a hearty "Certo!" All of this I consumed on a pleasant balcony overlooking the sea: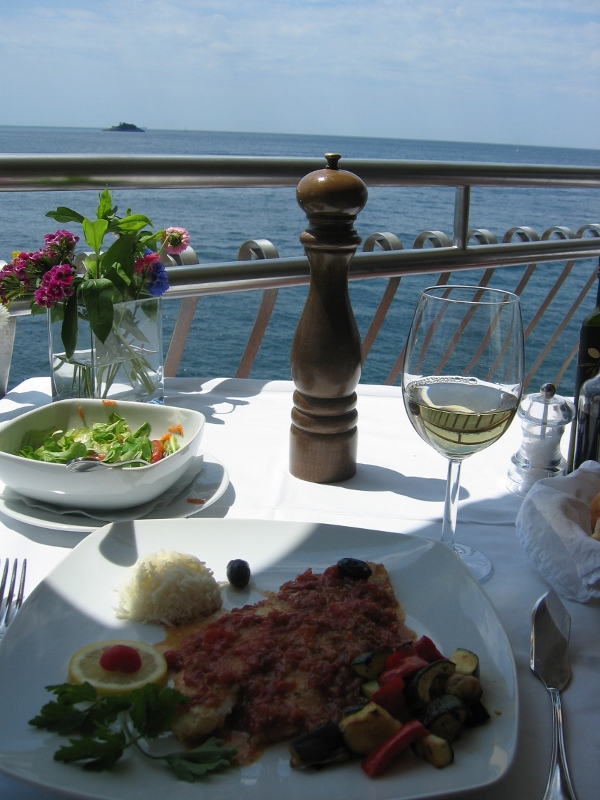 So yesterday, one thought I had was, I hope it is not all Germans on the boat.  Now, I love Germans and I love Germany, but too many of one group on a boat tends to sort of take over the situation.  It would be much better to have a random assortment of nationalities on the boat.  As soon as the boat arrived, even though I was standing right next to the entry area, I was the last to get on.  Why?  Because twenty (I counted) Germans pushed their way to the front and boarded.  I was the last to get on, which was OK since the boat held something like 150 people, if it were full.
So me and the twenty Germans sailed off, and first we did a panorama cruise around some islands, which was nice.  Then it was 1:00 PM and we arrived back in the harbor of Rovinj, and pulled back up to the dock.  We had only been sailing around for one and a half hours.  A couple of people got off and the rest of the Germans clearly knew what was going on because they all went downstairs and sat at long tables already set up with bread and giant plastic bottles of oxidized white wine, water, and orange Fanta.  I tried to sit at my own giant table, because I wasn't feeling like sitting at a table full of Germans who were in packs of four or six and not remotely interested in the weird single woman of unknown nationality.  But the guy serving the plates told me to move to a different posto – speaking in Italian, the way many do to me here, because I really don't think they know what I am.  More on that later.
Anyhow I took my posto and I was like, seriously?  The picnic is on the boat, DOCKED?  In ROVINJ?  I guess I had envisioned being on an island or at least moored at sea somewhere, where a swarthy, maybe even shirtless Croatian guy would dish up platters of basic but tasty fish filets, and maybe some potatoes or something and everyone would have shots of grappa and other crazy Croatian liqueurs.
Nope.  We were docked at the harbor.  And then they served me this: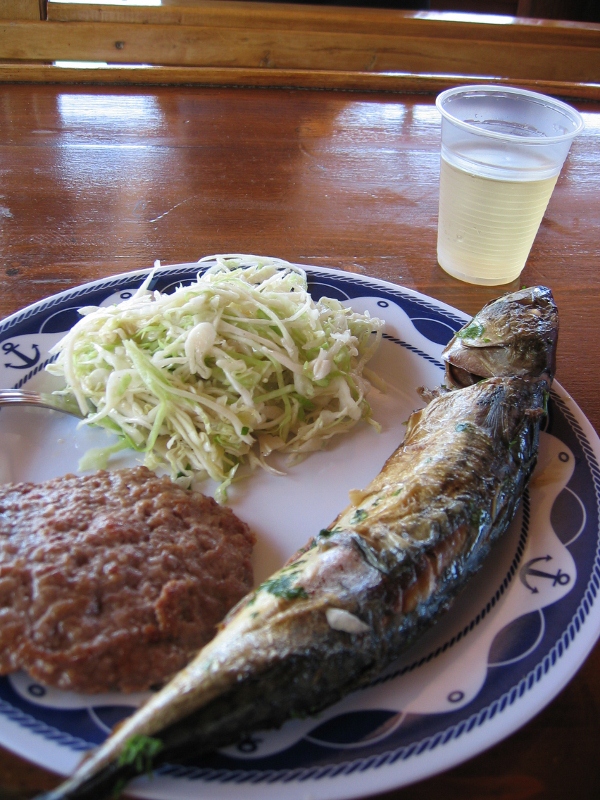 My first thought was: what the hell is that patty of mystery meat doing on my FISH PLATE and my second was: do I really have to stay on this boat for another five hours?  I mean, it just wasn't really doing it for me. I started to pine for all my favorite haunts… my perch at the sea, my daily glass of Viognier at the Piassa Grande wine bar, the seven kuna glass of wine at the Buzz bar, and my favorite waitress the Riva bar, she of the Low Price and the Big Pour.  In the 4.5 minutes it took me to push some of the fish and the cabbage or whatever that stuff was around on my plate (and I admit, I even took a couple of bites -it would take a lot of wine to wash that taste out of my mouth. A LOT) I had made the decision.  I bailed.  Off the boat.  Sometimes you just have to suck up the loss of 220 kuna and carry on.
When I got off a guy that was selling tickets said the boat would sit there until 2 PM!  Then get more people for the rest of the day, when they go to some town and a fjord and a pirate cave.  I went to the Piassa Grande wine bar to hide out until the boat was safely out of sight, then I went to my perch.  This, my friends, is where I read most of Blood, Bones & Butter by Gabrielle Hamilton.  I loved this book and I love my perch on the Adriatic sea.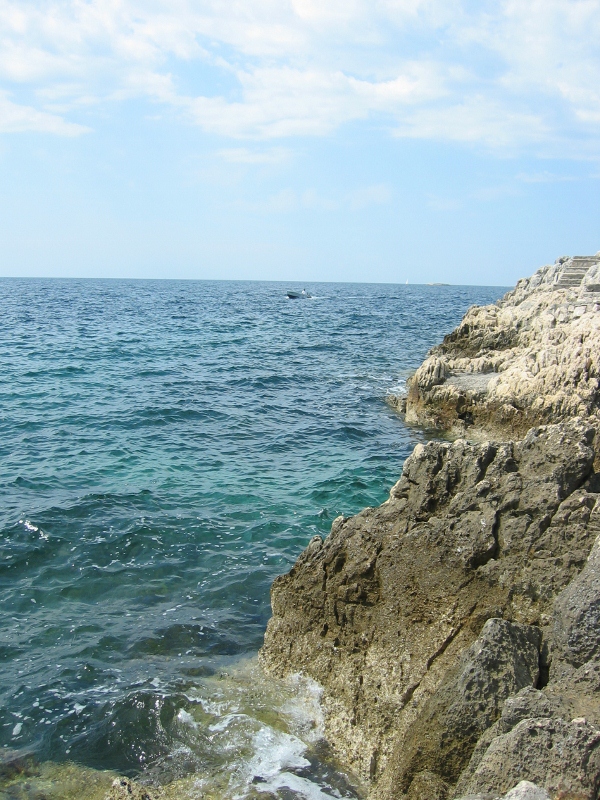 And just so you have it, a photo of the big pour, where I went at 6 PM so I could see my boat coming back, all the Germans shooting photos of me and not even knowing it.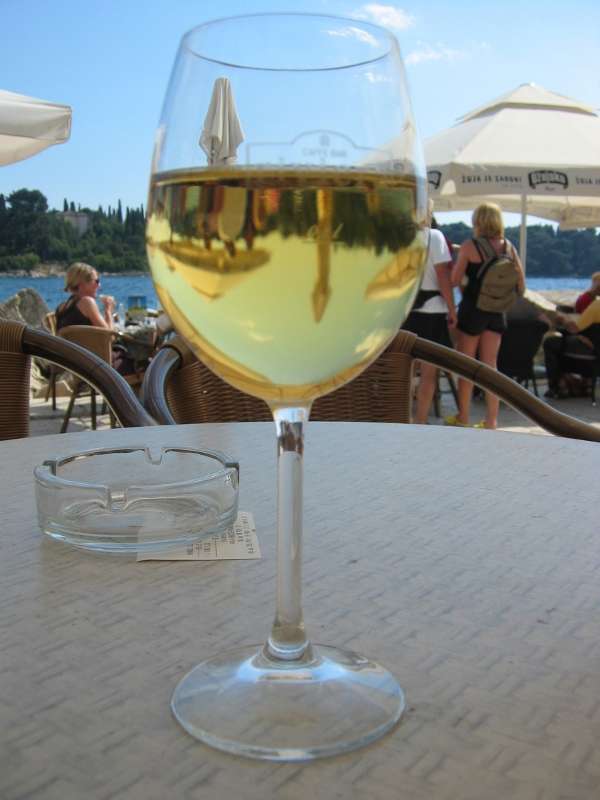 The boat, arriving after a long day of indigestion: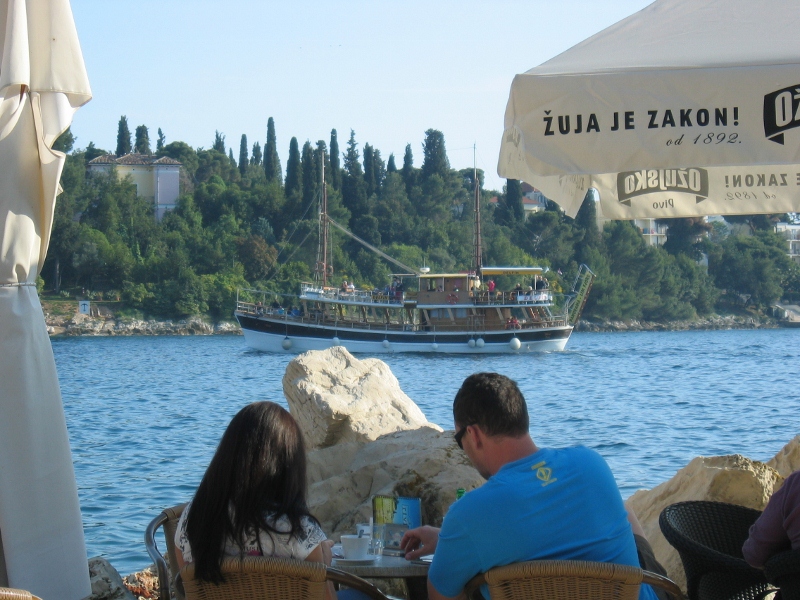 This afternoon, I leave Rovinj for Trogir.  I had planned to rent a car and drive to Plitvice Park and arrive in Trogir Wednesday, but the thought of navigating myself around made me change my mind.  But I forgot the reason I decided to do it that way, all those months ago – because it is a pain to get to Trogir without a car!  Somehow I got a one way flight for not very much money, but it takes hours.  Including five in the Zagreb airport.  I won't get there till late tonight and will lose a whole day to travel, but it bees that way sometimes.
I will never forget the people I have met here – my wonderful landlady, who brought me four fresh frittelle this morning for breakfast, all the people in the bars and the restaurants, even the girl who sold me the ticket for the "fish picnic" was totally cool.  I will never forget the amazing beauty and laid back vibe of Rovinj.  I want to come back.  Soon.
Onward.