From One Extreme to the Other
July 6th, 2013 | Posted by Shannon
After my busy days in Bucharest I went north and spent some days in the Maramures region, staying in this farmhouse with my friends Deborah and Dan –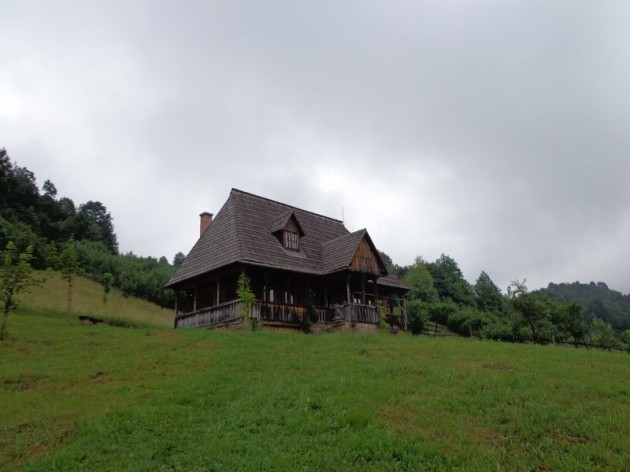 Talk about different.  Maramures is like stepping into the past.
Driving to the farmhouse from the train station in Sighet (short for Sighetu Marmației) was an exercise in dodging horse drawn carts and hitchhiking senior citizens until, finally, we reached the general area of the farmhouse where a religious holiday had everyone in all the surrounding towns walking to church dressed in traditional festival clothing from the region.  I did not take any pictures of the hundreds and hundreds of people walking in gorgeous embroidered dresses, vests and shirts unfortunately… but it was an incredible sight to see.

In the U.S. we are all so busy with our electronics and movies and freeway driving and supermarket shopping.  In Maramures, everyone sits on benches on the street and talks.  At least that is how it seemed to me. It was difficult to find fresh meat and veggies in the small towns – everyone is self sustaining and grows and raises their own food.  They do have outdoor markets a couple of days a week.
The first day I was there it was beautiful, but then it got cool and rainy.  It was a massive difference from hot and steamy Bucharest.  One night Dan managed to barbeque despite occasional raindrops.  We actually sat around a fire! Talk about extremes.
We visited the Merry Cemetery, where the tombstones are painted with the dead person's occupation and other anecdotes about their lives.  And sometimes how they died.  This dude got decapitated: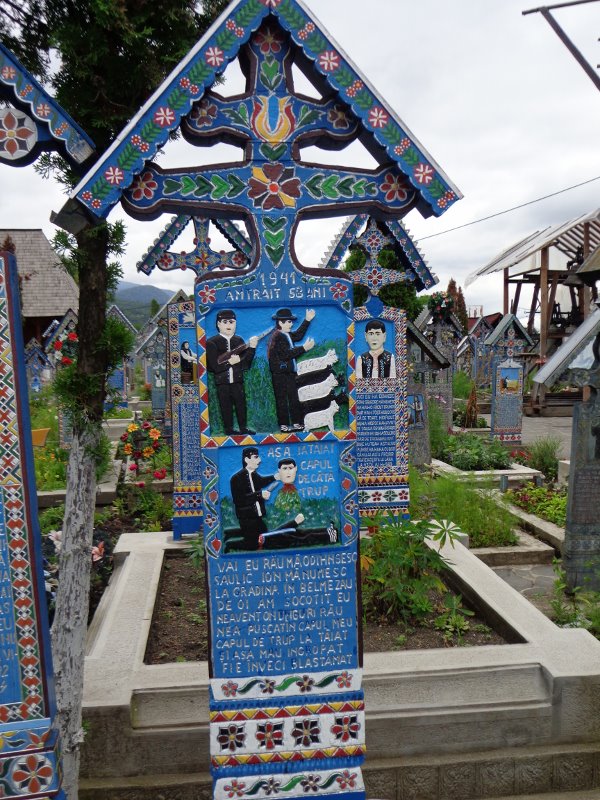 And it looks like this guy was a bartender.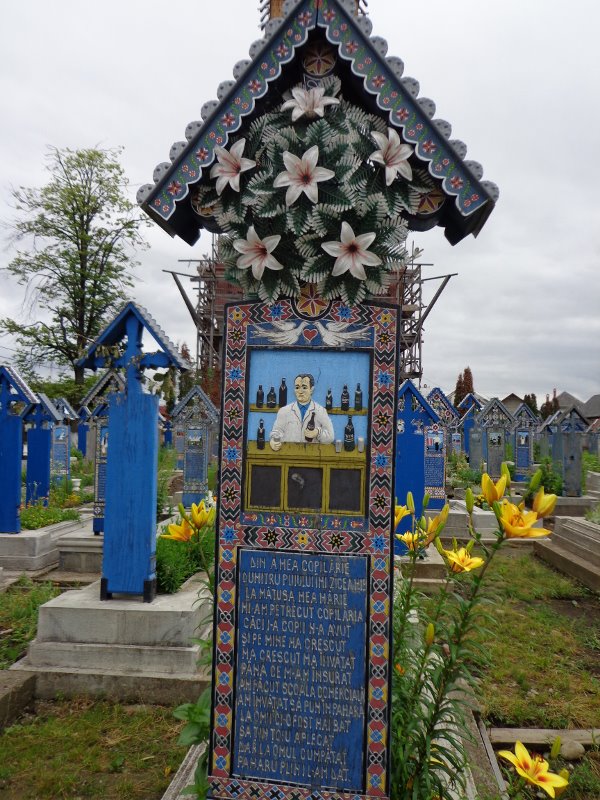 One thing that kind of shocked me (and continues to shock me, at every cemetery here) is the life span.  Dying before 50 seems the norm, not the exception. Especially for the men.
We also visited the home of Elie Wiesel, the author of "Night" and many other books.  A Jew living in Sighet during World War 2, he and his family were rounded up and taken to concentration camps in May 1944.  I didn't mention this in my train post, but when I was on that train I kept having these images of train cars stuffed with people going through that landscape.  I am not sure why, but I did.  Elie Weisel's house is now a museum housing many details about the fate of the Jews from Maramures.  In ONE WEEK 12,000 Jews, almost all of them from the region were taken from the ghettos in Sighet and transferred to concentration camps.  On only FOUR trains.
After that rather heavy experience, we went to lunch at a restaurant next door where Deborah ordered the house special.  It turned out to be a pork chop and local sauteed mushrooms served inside of a massive buckwheat crepe.  I am fairly sure alfalfa sprouts have never been eaten by a human in Maramures, because lets face it, sprouts are for the horses.
For the first time in my life, it seemed to me it would be easier to be a nun.  You can work your butt off in the field then go home and sit on the bench in front of your house, or you can live here: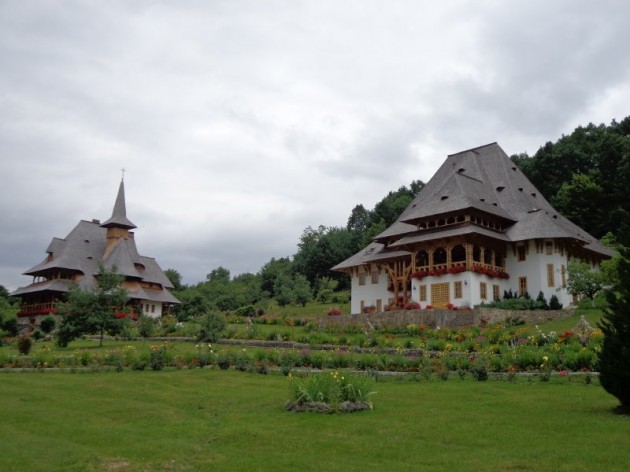 The Barsana Monastery is, without doubt, one of the most beautiful (and also a little trippy) monasteries I have ever been to.  Gorgeous structures with lots of shiny varnished wood and fresh flowers everywhere.  The grounds are like well manicured hobbit lands.  They could make "MonasteryLand" at Disneyland and model it on Barsana.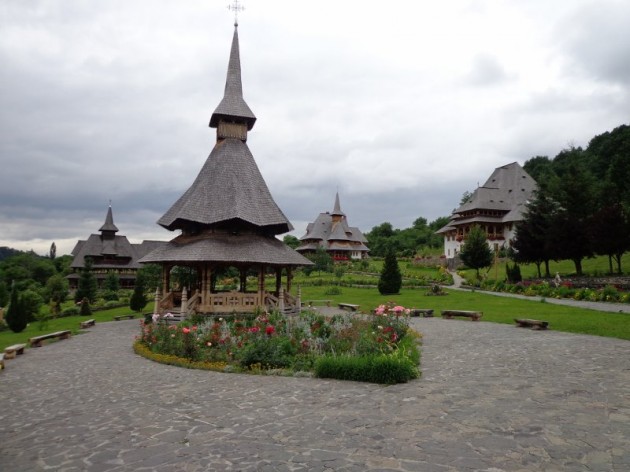 Yes, I think I could be a nun in an alternate universe, one where I was born in Maramures.
On our way back to the farmhouse from here I got us into a bit of a pickle.  Looking at the map, I found a road that went a back way into Botiza, where we were staying.  For awhile it was OK but the road got progressively worse and then eventually impossible.  We had to turn around and I was seriously fearful that we were going to at best get stuck and at worse lose the entire undercarriage of the car.  But Dan is da Man when it comes to driving and he got us out of there.  He also managed to avoid, on the main roads, the thousands of potholes, senior citizens on bikes older than me, pedestrians, hitchhikers who have had more than a few beers, horse drawn carts, oxen pulled carts, sidewalk benches, stray dogs, and other assorted flotsam and jetsam.  It was like some kind of insane video game.
Now begins my "I can't wait to find a wine bar in Arad/Timisoara/Sibiu."  I want a wine bar BAD.  Still haven't found one, but I have many other tales to tell.  Stay tuned.