The Day Where I Realized Bucharest is Totally Awesome
June 27th, 2013 | Posted by Shannon
What do you get when you add 95 degree heat with equal humidity, the second day of summer, a killer park in the center of town, and all the strange and interesting characters that inhabit that nutty place called Bucharest?
Awesomeness, that's what.
I woke up on Saturday with feet that were not going to get me too far, walking wise, because of my march to various locations on Thursday and Friday.  So I headed out into the day with not much of a plan except to not go too far.  I did go to the Gare du Nord train station, which was about 20 minutes away, because the next evening I would be taking a night train to Sighetu in the north (more on this experience later) and I wanted to check the station out.  I'd read that it was a sketchy, horrible, nasty place where I would need to be worried about, well, everything.  But of course it was a train station, just like other train stations, just hotter and more humid on this particular day.
Anyway after I left there I took the metro back towards my place to check out the park next door, Parcul Cișmigiu. While I was walking I noticed what I thought was another antique/crafts market like I saw at the Folk Museum the day before, so I went to check it out.  But it wasn't that, instead it was a folk festival, with food, drink, music, dancing and booths – in Parcul Cișmigiu, right by my apartment. Bonus for me, bonus for my feet.  I looked at the booths and went and checked out the music and dancing for some time. Me, and lots of residents who were hooting and hollering at the dancers – they clearly love their heritage.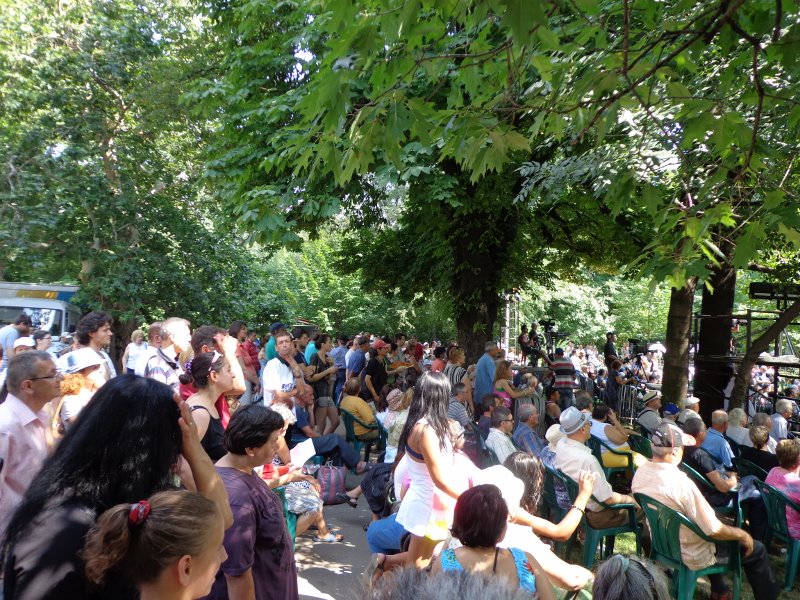 Eventually I needed to eat so I went to get some pizza and wine, and then to a little kiosk where I had another glass of wine and watched crazy people pedal pushing boats around in insane heat.  I mean, it was hot.  Can you see how steamy it is?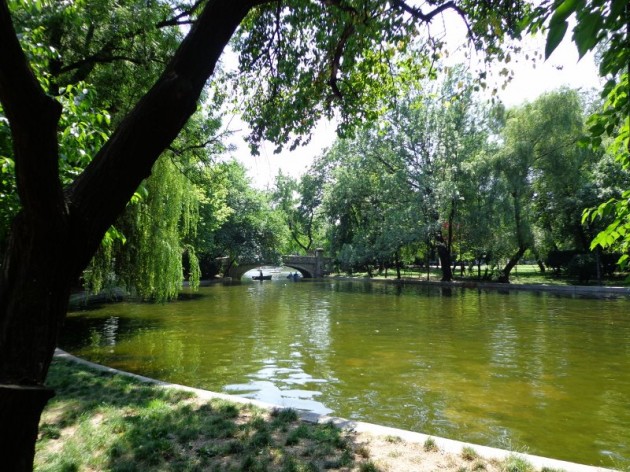 Maybe not.  But let me assure you – steamy.
I went home for awhile, but when I walked home I passed by a conservatory of music and the most amazing music was coming out of there.  It was a school and there was classical piano, and a flute, and a voice… all following me down the street.  I felt like I was being followed by music, all day and all night.
I went back out around 7 PM.  First I went to another place down the street from me, close to this cool building: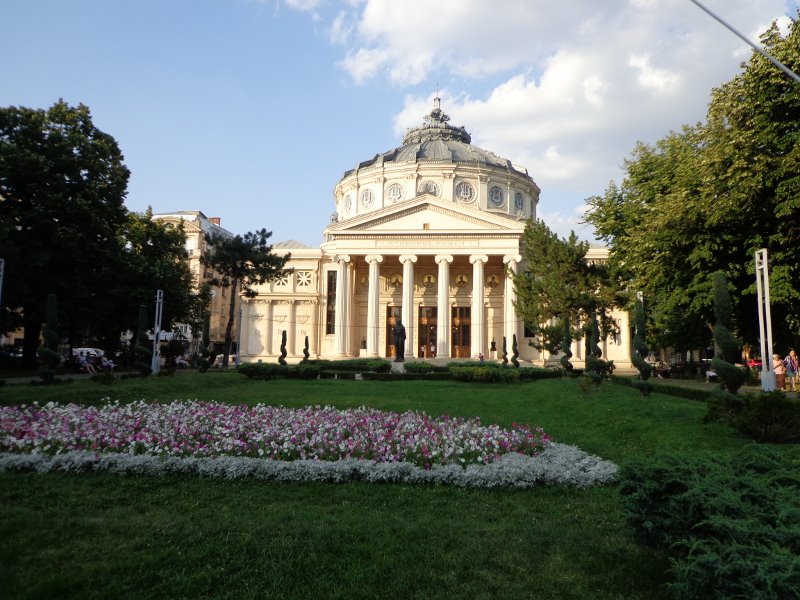 where they had ANOTHER free festival, this one with music from films.  But it was not really happening yet – so I went back to the park to see more of the folk music there. Now that it was evening and cooling down (a little) the park was packed with locals hanging out and enjoying the festival and the park on a warm summer evening. Hanging out at the main stage, I watched a circle of people dancing together, the circle getting wider and wider, with kids and senior citizens and everybody in between, and some couples dancing in the middle, oblivious to the circle.  Everyone was having so much fun… it was like another world, much less a different part of Bucharest.  In another part of the park there was a stage with a DJ, and beer stands all around, and people hanging out while their kids played and danced.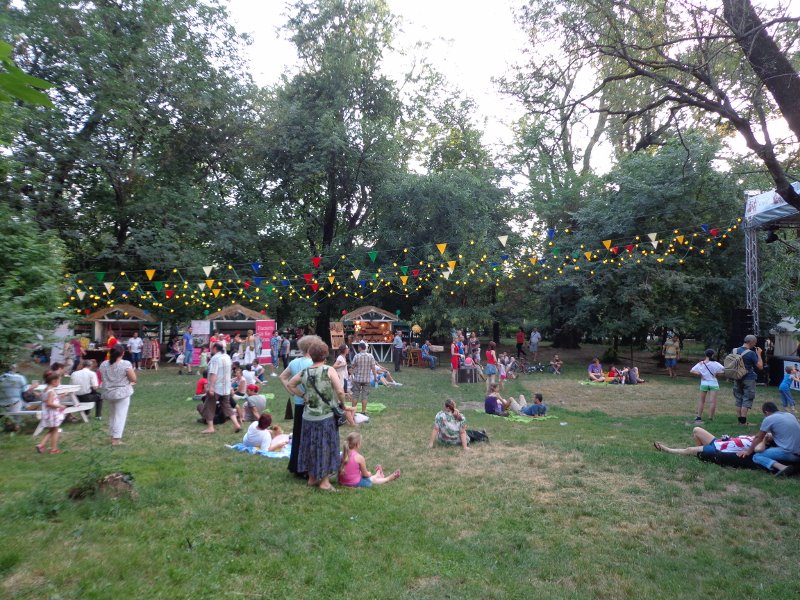 .
The kids had no earplugs, and the DJ was LOUD.  It reminded me of the good old days of the 1970s when us kids use to run around in front of the speakers with no earplugs.  There was face painting and lemonade, and every single bench (and there were a lot in that park) had several people sitting on it, all ages and walks of life, chilling out and listening to music and drinking many beers.  I just loved it.
But, I had a plan to go to the famous Cara cu Bere, a Bucharest institution, for dinner.  I was a bit worried to show up on a Saturday night at eight PM with no reservation but I got a table on the terrace with out a problem.  My waiter was kind of stiff at first but when I ordered a second glass of wine he said NO and then when I looked at him like waaaaaaa?, he smiled a big smile.  I felt like I had broken through the sound barrier.  I had a very nice meal there even though the music that followed me at this point was akin to Muzak, and was emerging from the bathroom, two sets of salsa dancers were whipping back and forth right in front of me.  There is dancing and music everywhere! I walked home through the crowded bars and cafes of the old quarter and back to where they were showing the film/music festival thing, and they were showing an opera on a big screen there.  But I was tired, so I walked back home.  The moon was full and as soon as I got in the door it started to, out of nowhere, rain.  That made everything even more steamy, but I could watch the steam from my window.
So, in the end – I really loved Bucharest.  Since I left there, I have been asking myself "would I go back?" and I think the answer is absolutely, yes.  I will never forget some of the people and things I saw there.  Not to mention the wacky architecture –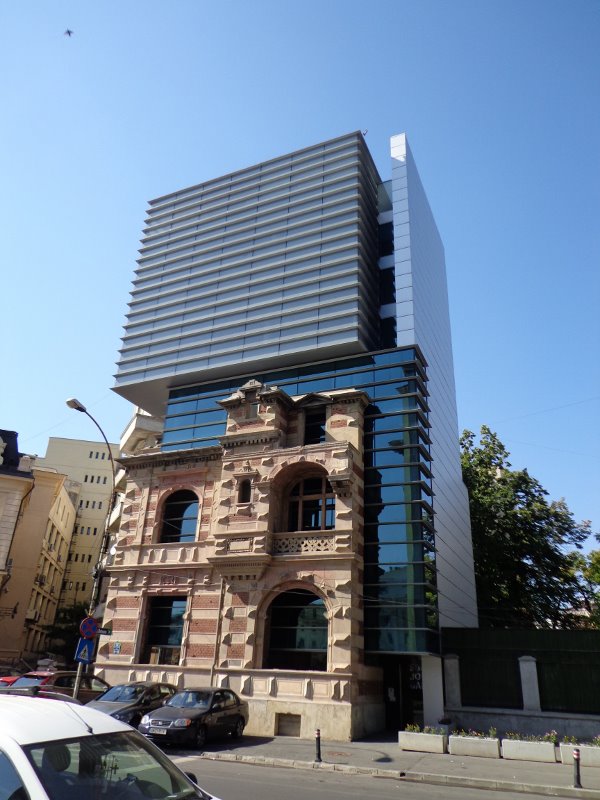 I guess if you don't want to tear something down you can just build something totally different on top of it.  Not sure how I feel about it, but it is there, and it is kind of cool in a totally bizarre way.  That is Bucharest.